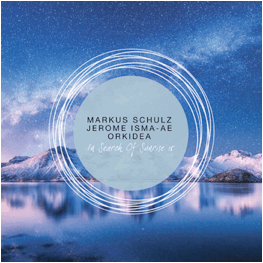 'In Search Of Sunrise''s 15th musical quest has broken with its release tradition by picking up an autumn spot for 2019. Returning after last year's showing, Markus Schulz again assumes responsibility for its opening mix. Taking over the middle disc spot is Jerome Isma-Ae, while Finland's Orkidea brings his nous to the third. As ever, the release holds a spyglass to the mixers' own release horizons. Alongside is music from artists such as Ferry Corsten, Bicep, Paul Oakenfold, Solarstone, BT, Giuseppe Ottaviani, Jam & Spoon, Yotto and Henry Saiz. 
With his ISOS-head on, Markus brings a mixed cross-section of his own recently finished music, collabs and on-approach Coldharbour material. From his own locker are the just-completed 'Bells Of Planaxis', as well as 'Sunrise Over The Bay' and his first Talla 2XLC teaming, 'Mainhattan'. There are also 'In Search Of Sunrise' themed remakes of recent track 'Ave Maria', the Paul Oakenfold/Carla Werner classic 'Southern Sun' and others.
Jerome Isma-Ae's 'Search' likewise commences at his own front door. New production 'Kubrick' is brought into play, with the digital version also including bonus newies 'Drifting' and 'Underwater Love'. Jerome finds space further in for a wealth of J.I.A. remixes. His work on 8Kays/Diana Miro-pairing 'Inside', Rue & Alastor's 'Untethered' & 'Stardust' by Michael & Levan & Stiven Rivic, as well as tracks like Jam & Spoon's 'Follow Me' & Orkidea's 'Nana' all find their place. In and around are Wally Lopez's revision of Betoko & Alex Kaspersky's 'Pluttonya' and DAVI's 'Two Suns In The Sky'.
Coming under the steady gaze of Orkidea, 'ISOS 15' commences its final act with the ambient rework of Barry Jamieson's 'Stars'. Henry Saiz's 'I Can Feel It Coming' and 'Odd One Out' from Yotto fall into step behind, as do Orkidea's own 'Metta' & 'One Man's Dream'. 
Gundamea's fresh take on Solarstone's 'Solarcoaster', Oakenfold's 'Stonehenge', BT & Matt Fax's 'The Noetic' and others aren't far behind. Tying the mix off he draws on the likes of Sweden's Ticon, with '1987' and Bicep's 'Glue'. 
It's out 8 November.
© justaweemusicblog.com