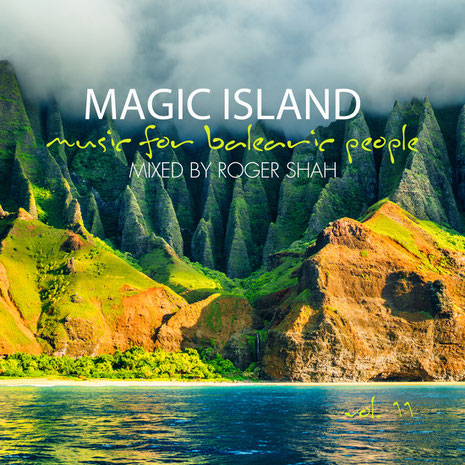 Having last year steered his mixcomp series into double-digit territory, Roger Shah's 'Magic Island' is once again out with its 11th edition. Roger and his troop of Balearically minded music-makers have returned with another clutch of purpose-built sunny sonics. 
While some play fast and loose with terms like 'team' and 'family', his Magic Island grouping is arguably their truest embodiment. Artists like Ingsha, Clarks, Rafael Osmo, Raul Pablo Sanchez and others have been with the series near enough from the start, and on Vol. 11 they are once again contributing fresh studio wares. 
'Family' is also used in its most literal sense too, as hid son Noah Shah brings three new deep-house-tipped productions ('Out Of Time', 'Phoenix' & 'Animus') to its first disc. Families have newer members too and this release brings first-time M.I. appearances from new artists like Magnettor, Ditoma, Archers & MainDain, Julie Dvir and John Colombani. 
There is much too from Roger's cohort of alter-egos, pseudonyms and aliases. For the 'Island' ever-shifting moods, times and tides, new music from High Noon At Salinas, San Antonio Harbour, Balearic Session, Guided Gratitude and Sunlounger prevail. 
Roger Shah: "It's that time of year again guys and I'm super excited to present this new edition to you! Mix 1 is a unique journey, blending everything from Balearic guitars, deep house vibes and melodic techno. For Mix 2 meanwhile, you'll find the selection gets more uplifting, emotional and floor-driven, as the mix moves between progressive and trance."
© justaweemusicblog.com