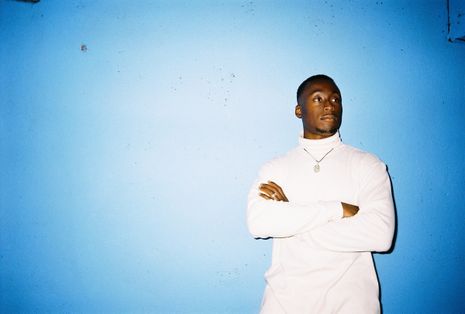 British/Sierra-Leonean artist, poet and rapper, Nadeem Din-Gabisi recently released his second solo offering, 'Holy Wata', taken from his forthcoming album 'POOL', which is set for release later this year. 
Nadeem's music aims to radiate a potent and un-rescinded energy and its message, immersed within a cocktail of grime, hip-hop, highlife and jazz takes the listener through his personal journey, examining moments of trauma and happiness in childhood. 
It uses those moments as a diving board to explore mental health issues and coping mechanisms of many young black men, born in inner and outer London. It questions and attempts to answer why some of these men swim, why some sink and why some others don't enter the pool.
Croydon based Nadeem's previous musical explorations have involved touring with jazz-collective Steam Down and featuring on Sampa The Great's 2018 track 'Energy'. He was recently awarded the The Fred Perry X Nicholas Daley Grant, which was judged by a panel including Nubya Garcia, Bradley Zero, Gilles Peterson and Nilüfer Yanya. 
This track aims to highlight the tensions the artist experienced being raised in a religious household under the Christian faith, and then feeling at odds with its ideals as he reached adolescence. 
Nadeem: "…a playful, celebratory lamentation subverting the idea of holy water as protective and baptism as positive renewal. The song touches on my personal relationship to christianity, looking at what holy water could not protect. The song is also a reflection on the relationship between slavery, colonisation, missionaries and christianities introduction to West Africa, specifically looking at the impact it had/has on the Krio people of Sierra Leone whom I'm of, whom I'm from."
Nadeem draws on the influence of a collaboration between himself and fellow musicians Coby Sey and MettaShiba, with the waters they navigate helmed by producer Beni Giles (Lianne La Havas, Oscar Jerome). The musicians' credits span an astute list; beat maker and composer Coby Sey has toured with Tirzah and collaborated with Mount Kimbie, whilst multi-instrumentalist MettaShiba is a 2020 Brownswood Bubbler with her project An Alien Called Harmony.  
© justaweemusicblog.com