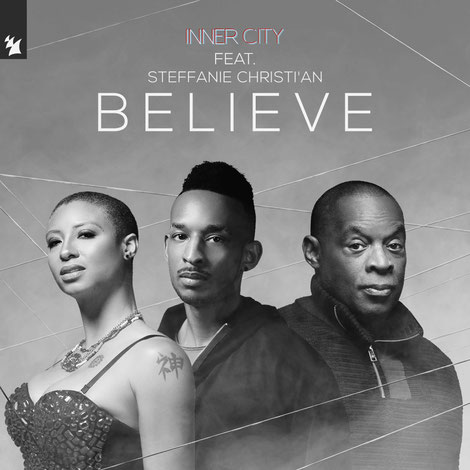 In the wake of releasing 'Need Your Love' in June, Inner City (Kevin and Dantiez Saunderson) and Steffanie Christi'an touch down on Armada Music with their latest track. 2019 has celebrated 30 years of Good Life with a spring/summer tour that saw the first live performances outside of the US in almost 20 years. 
Inner City and Steffanie have been working hard in the studio and are ready to showcase more new material throughout the remainder of 2019 and beyond. 
Since April they have performed with a new live show at Glastonbury Festival, Manchester's Hacienda, Oval Space in London, Razzmatazz in Barcelona, Albania's Kala Festival, plus Lost Village and Moovin Festival. 
Kevin Saunderson: "My vision for Inner City is not just to be an influential group of the past, but to become a group of today and look to the future. We have an enormous catalogue of classics from our previous years and now we are moving and shaping a new sound for a new generation. There will always be a place for our music, people will always want to feel uplifted and it does just that. I believe our music has filled this void for 30 years and kept us in tune with the future generations. Now with my son Dantiez by my side we head into the future with great music for years to come."
Between the mellow original, Kevin and Dantiez's rhythm-led Groove Dub Mix and tough Club Mix, and the deep, dark and techno-scented remix from Justin Cholewski, the track delivers mixes across the house spectrum.
If you're out in Glasgow on Saturday 2 November, you can catch Inner City's full live show at STREETrave's 30th birthday part 2. Find out more about the event right here.
© justaweemusicblog.com