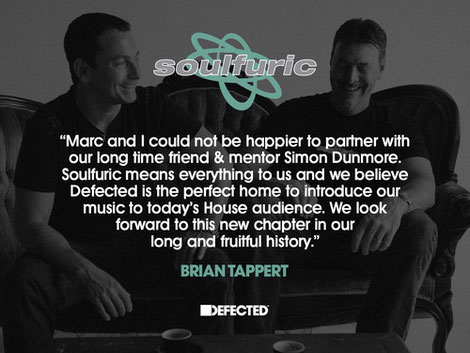 This is a favourite labels day! One of our all time favourite labels, Defected Records, recently announced that they have acquired one of our other all time favourite labels, Marc Pomeroy and Brian Tappert's full Soulfuric Recordings catalogue, which includes Soulfuric Deep and Soulfuric Trax. Soulfuric is easily one of the most renowned labels in house music worldwide, releasing material from artists such as Cleptomaniacs, Axwell, Copyright, Hardsoul and Ron Carroll to name just a few.
Traxsource founders Brian Tappert and Marc Pomeroy have been involved with the house music scene since its beginnings and continue to carry the torch a quarter of a century later.
As production duo Jazz-N-Groove and Urban Blues Project (UBP) they have released records on classic labels including Bassline, Sub-Urban, Strictly Rhythm and AM:PM and even queued up the first ever release on Defected Records (and a UK chart no.8) with the seminal Soulsearcher production 'Can't Get Enough', which turned 18 just recently. 


In 1996, the two founded their own label Soulfuric Recordings, going on to set up Traxsource, one of the world's first digital download retailers, in October 2004. Conceived initially as an outlet for Soulfuric releases, it is now home to over 25,000 labels, over 350,000 artists and over two million tracks.
Over the coming months you can expect a Jazz-N-Groove House Masters album (about time!), new signings, remixes of old classics and remastered re-issues. 
Simon Dunmore: "Soulsearcher's 'I Can't Get Enough', Defected's very first record, was originally released on Soulfuric; a house classic that still sets the tone for our releases today. My personal relationship with Brian Tappert & Marc Pomeroy, aka Jazz-N-Groove, goes way back to my early years at AM:PM. Their productions and releases on Soulfuric are timeless and there's a whole new audience out there who will appreciate why this label is so special."
This is great. End of.
© justaweemusicblog.com