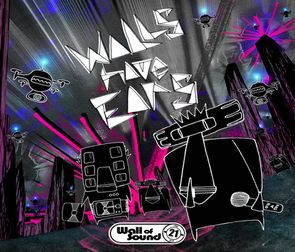 Wall of Sound recently announced details of a new label compilation 'Walls Have Ears-21 Years Of Wall Of Sound' to be released on 13 April 2015 through [PIAS]. The brainchild of Mark Jones - 1994 saw the launch of Wall Of Sound, and following the underground acid-house explosion of the preceding years, set about unleashing a catalogue of releases that were to become synonymous with the era; mixing sonics and genres together. First ever signing to the label, Mekon (John Gosling), describes them as "a well-oiled machine reversing into the future."
Mark Jones: "I just want to give artists the platform to do what they do. That's what it's always been about for me. It's never been about sitting in a studio saying, 'Don't do it like that, do it like this'. Wall of Sound has always been about artists being themselves. It's been a very very interesting journey, 21 years....who would have thunk it?" 
The compilation features an array of artists from the heady days of the label's inception and includes tracks and artists from the off shoot labels, We Love You and Bad Magic. The compilation is a catalogue that encapsulates the diversity of a label that has been home to the likes of Royksopp, Grace Jones, Propellerheads, Les Rythmes Digitales, Reverend and the Makers, The Human League, Aeroplane, The Bees, Tiesto and more...
Felix (Basement Jaxx): "Happy 21st birthday and thank you Mark Jones for funding, pressing and distributing the first ever Basement Jaxx record EP1. I visited him one lunchtime wearing a suit, after playing him a tape cassette of the material, and asked 'Would anybody buy this?' ,'Yes' he said. 'Any chance you could press some records? We don't have any money', 'Yes' he said. Thank you Mark! Thanks for living and thinking outside the box!" 
Banksy: "Spending time with Wall Of Sound is like being in an epic road movie, without a map. And no road."
Check the mini-mix out below.
© justaweemusicblog.com