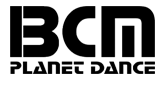 BCM Planet Dance recently announced their summer shows which include Cream, SuperMartXe, Sound of the Future and Mistajam and friends. Also on the bill is Danny Howard, who is curating a series of shows throughout the season, and BCM Presents who will also have Example and DJ Wire on rotation.

BCM Planet Dance 7 Day Program
Monday and Wednesdays
Returning back to take up the charge on Mondays and Wednesdays will be a mix of the Cream brand with Paul van Dyk and Calvin Harris, as well as BCM Presents, which will be be a flagship in house night showcasing a broad range of talent.

Tuesdays at BCM
Tuesdays will see Radio One DJ Danny Howard curate his own night, where he will hand pick every act that plays with him.

Thursdays at BCM
Thursdays will again be BCM Presents where Example headlines on rotation throughout the summer.

Fridays at BCM
Fridays will see a popular regular resident return in the form of Radio 1's MistaJam, who will also enlist a lively roster of his friends to all come and play and welcome in the weekends in style. 

Saturdays at BCM
Saturday will be reserved for Spain's DJ Sammy and the Supermartxe night, so house in all its many different variations will be the order of the night. 

Sundays at BCM

Closing out the week on Sunday will be a special showcase night that looks to the future and puts on a range of headline DJs, live acts and PAs and each one will be presented by Micky Slim & Majestic. 

For more info, check: www.bcmplanetdance.com