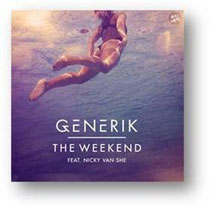 Released on Australian dance label, ONELOVE, 'The Weekend' is the debut single from new Australian house producer, Tyson O'Brien aka Generik, which features vocals from Nicky Van She, front man for electronic pop group, Van She.
Hotwiring hyperactive house with euphoric '90s rave piano and a sleek guitar solo, the track was born on a bender, which started in a London pub and spilled back to Nicky Van She's house until all hours. "Nicky started singing the vocal into his phone on the train home," recalls Tyson.  "We got home and started banging out the piano chords and the core of the track was made."
'The Weekend' signals a pivotal point for Tyson. He is earning his dues, DJing at parties including the Bromance Tour alongside Brodinski and Gesaffelstein, Stereosonic Tour 2014, Big Day Out Boiler Room 2014, Coachella Villa After Parties, SXSW 2014, EMC closing party alongside Boys Noize and Cajmere, and the Alison Wonderland warehouse parties.
He has also caught the attention of guys like Diplo, Skrillex and Calvin Harris. "I met Calvin at Stereosonic and we hit it off immediately," recalls Tyson. "Then he asked me to tour Europe with him on his private jet and we did 13 shows in 11 days in eight countries – it was insane!"
Completing the package is the house mix from Belgian duo, Arches, plus a deeper, basshouse mix from Terace.
It's out 19 September, check it out below.
© justaweemusicblog.com