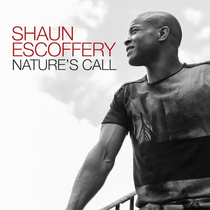 Taken from his first album recording in seven years, 'The Red Room' which is forthcoming this autumn, UK soulful artist Shaun Escoffery's recently released track, 'Nature's Call' on Dome Records, has just been added to the BBC Radio 2 A-list. The track is a plea for people to come together and live in "love, peace and harmony,"  with a video featuring members of the general public with Shaun in the background narrating the scene. 
Remixers who have contributed to 'Nature's Call' include his lifelong friend Idris Elba (The Wire, Luther and Nelson Mandela in Long Walk to Freedom movie); regular cohort DJ Spinna, who adds his signature Brooklyn House flavour; the UK's Copyright, who turn out a powerful deep groove; Sir Piers, who joins forces with Pedro Caldas to deliver a tasty soulful remix and dub; and Gil Cang, who produced and co-wrote the album and adds his own take with a Rolling Stock remix.
Shaun Escoffery: "I've taken my time, a couple of years of writing and recording. I wanted to have something to say, it takes time to get to that point, to say what's in your heart.  'Nature's Call' is a song that I believe captures what a lot of people are feeling at the moment."
It was actor Idris Elba who convinced Shaun Escoffery that his future career lay in singing and acting. They were best friends in their teens in the East End of London and attended Barking and Dagenham College together. Shaun's solo recording career began in 2001, his debut album was co-written with his friend Geoffrey Williams. Shaun recalls:
"Trevor Nelson jumped on 'Space Rider', then when the album came out everyone gravitated to 'Days Like This'. Elton John also championed the album! Both the initial singles made the UK charts."
'Days Like This' had started out as an acoustic guitar thing, but the subsequent release of the DJ Spinna remix took him down the club route for the first time. In 2003 his label Oyster released a remix album 'Soulonica', with contributions from Jazzanova, DJ Spinna, Koop and Mark de Clive-Lowe, among others. In 2007 came 'Move Into Soul', an album produced by Shaun with Geoffrey Williams, which featured his interpretation of some of his favourite soul songs, among them 'Why Can't We Live Together' and 'A Change Is Gonna Come'.
Check the video below.
© justaweemusicblog.com