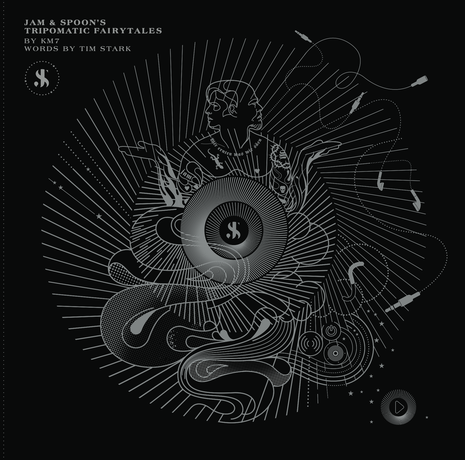 In April of 1993, Jam & Spoon released an LP that became the first artist album example of a major new electronic music sub-genre. 'Tripomatic Fairytales 2001' proved to be a success for SONY Music and through its singles (not least 'Stella'), was instrumental in touching off the trance music scene. 
Since, 'Tripomatic' has been ranked by MIXMAG as the 21st Most Influential Dance Music Album Of All Time, while DJ Mag has cited 'Stella' as being the best track inside the genre's first 25 years.
Seminal, influential, inspirational, and thanks to its artwork, visually iconic, it became a lightning rod for a style of music that in 1999 became electronic music's most prominent form.
The idea to mark 'Tripomatic''s 30th anniversary came from Arny Bink - the owner of Holland's Black Hole Recordings. Jam and artist Klaus Mai, who through his KM7 design bureau had created the original 'Tripomatic' artwork, had remained close friends. Klaus was drawn by the suggestion he expand his original, single piece of 'Tripomatic' art into a substantial, coffee table-sized book. 
Tim Stark, who, during his 20 years as DJ Mag's Trance Editor, had become a prominent voice on the scene's music came in and through a series of articles and interviews, pieced together 'Tripomatic's backstory.
A multifaceted and multimedia salute to the LP, Jam & Spoon's Tripomatic Fairytales by KM7 and Tim Stark is available through all good booksellers, or online via this link from 19 October.
© justaweemusicblog.com