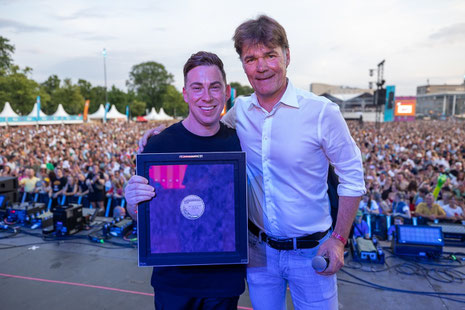 Shortly before the beginning of his set at Breda Live 2023, Robbert van de Corput, better known as Hardwell, was surprised by Mayor Paul Depla with an appointment as an honorary citizen of his hometown, Breda. Only two other Breda residents carry this title – former Mayor van der Velden and Tijs Verwest, aka Tiësto. Throughout his career, Hardwell has delivered an extensive list of outstanding achievements, and the pride he speaks of 'his city' and his involvement with Breda is the reason behind this appointment.
Mayor Paul Depla: "Robbert is an example for many. In addition to his successful music career and twice being crowned the World's No. 1 DJ, he has helped talented people (from Breda) to develop further. Alongside this, he works as an ambassador for local charities. If you mention Hardwell, Breda often follows in the same breath. Robbert puts Breda on the international map with his talent and achievements and by speaking with pride about our city. Breda is just as proud of him as he is of our city. We gain a valuable ambassador with him as an honorary citizen."
Hardwell: "I'm beyond grateful and deeply honoured to be named an honorary citizen of my hometown, Breda. This recognition means everything to me. Breda has been my inspiration and my home from the very beginning. It's where my dreams took flight.
"Wherever I've travelled through my djing or whenever asked about my music or journey as an artist, I have always been proud to represent my hometown. For a small city in the southern part of The Netherlands, it makes me so proud to see Breda play its part in the fabric of Dutch electronic music and then export it to music fans across the globe.
"The city helped me get my start, and I always dreamt of giving back, something my label Revealed Recordings has helped me do by supporting local talent. Being a positive force in the community and promoting cultural richness have been essential parts of my mission, and I look forward to continuing my work as an ambassador for Breda and its inhabitants. To inspire young people and talents not just in Breda but across the country and the World is something I hold dear.
"I am incredibly grateful to Mayor Depla, the Executive Board of B&W, and the City Council for this prestigious title. I would also like to add that I am eternally grateful for the immense support I have received from the whole Breda community throughout my career. It means so much to me. Thank you, and together, let's continue to inspire, uplift, and spread the love of music."
© justaweemusicblog.com