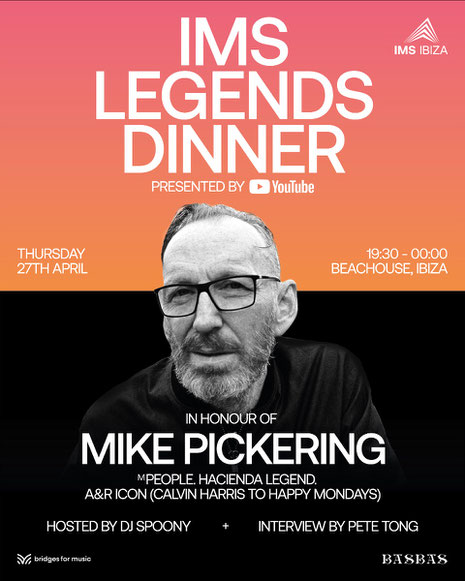 International Music Summit (IMS) will celebrate the achievements of Mike Pickering at IMS Ibiza, who was recently announced as the recipient of the IMS Legends Award 2023. Mike will be honoured during IMS Ibiza at a celebratory dinner presented in partnership with YouTube, hosted by IMS co-founder and BBC Radio 1 broadcaster Pete Tong and DJ, radio and television presenter, DJ Spoony.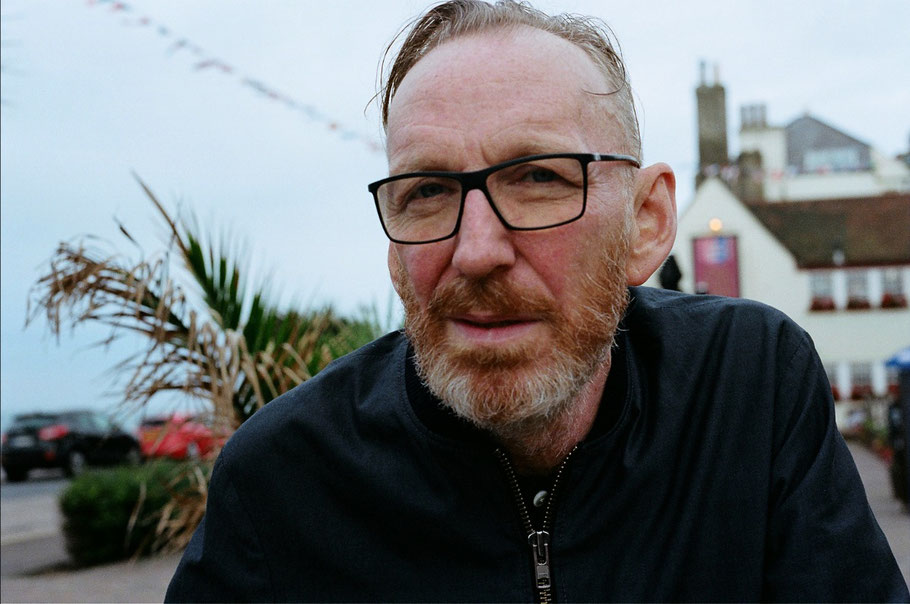 Mike was a Hacienda DJ, Factory Records A&R signing Happy Mondays, Deconstruction Records boss 'bringing Black Box, Guru Josh, K Klass, Felix and Kyle Minogue' and of course his own M People to the world and Columbia Records A&R 'who signed Calvin Harris' - a few highlights of a long career that has left a lasting legacy on electronic music and its culture. 
Mike began his career at Factory Records in the early 1980s as an A&R man signing Happy Mondays and James. Simultaneously Mike formed his own band Quando Quango, who enjoyed an underground dance track in the US with the track 'Love Tempo', championed by DJs Larry Levan and Mark Kamins in the New York club scene. 
Pickering went on to work at Manchester's Hacienda, as a booker and DJ, staying at the club for 11 years he created the NUDE night on Fridays, which pushed house music in the UK.
In 1987 he started the band TCOY who's first release was the underground track 'Carino', apparently one of the first British house records, he started the label Deconstruction with his then managers. 
In the '90s Deconstruction took dance music to the charts with tracks from Black Box, Guru Josh, K Klass, Felix and Kyle Minogue as well as with Pickering's own band M People. M People went on to sell '14 million albums and had countless hit singles whilst selling out arenas around the world'. The group won 2 Brit awards and the Mercury prize for their album 'Elegant Slumming'.
After M People he joined Columbia Records as A&R where he signed and helped the careers of Calvin Harris, Kasabian, The Ting Tings and Gossip amongst many others. He still DJs and was recently involved in the Hacienda Classical concerts which included a performance on the Pyramid stage at Glastonbury to open the festival.
He joins a list of previous recipients of this award which include: Underworld, Nile Rodgers, Fatboy Slim, Pete Tong, Sven Väth, Carl Cox, Simon Dunmore, Space Ibiza founder Pepe Roselló, Mambo Ibiza founder Javier Anadon and Ricardo Urgell founder of Pacha Ibiza and the worldwide Pacha Group. 
Mike Pickering: "I am really honoured to get this award and so proud to be joining such a great list of recipients. I'm really looking forward to the night."
IMS Partner Ben Turner:
"Mike Pickering's contribution to electronic music culture is immeasurable. From his A&R vision with the Happy Mondays in the late-80s through to redefining popular dance music today with the signing of Calvin Harris - he has been involved in many major crossover cultural moments. And then there is his own M People project; his work with the Hacienda; Deconstruction; Manchester. He's one of the true unsung heroes of dance music's rise to global dominance and one of our most gifted musical directors - period."
Dan Chalmers Head of Music YouTube, EMEA:
"I can't think of anyone more worthy than Mike to receive the "Legend Of Ibiza" award. From being one of the first handful of DJs responsible for bringing house music to the UK via the Hacienda - through to his work with today's global superstars like Calvin Harris - his footprint and taste is forever imprinted on dance and Ibizan culture."
© justaweemusicblog.com