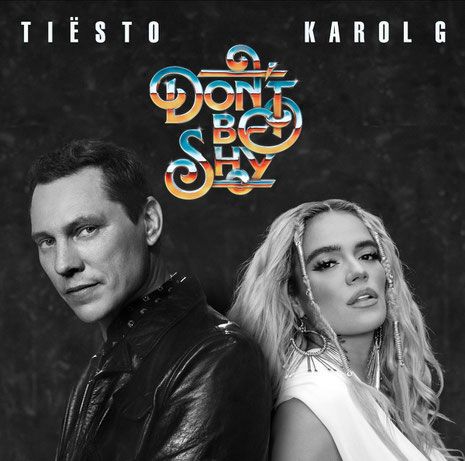 Tiësto and Karol G release their new collaboration 'Don't Be Shy'. The song marks the first English song ever for Karol G, as well as her first foray into dance music. It also celebrates the first Latin Artist collaboration for Tiësto. The duo also recently shot a music video in Miami, FL, directed by the phenom Director Christian Breslauer. The music video takes place at a museum, full of surprises, a dance performance by Karol G and appearances from Tiësto and Comedian, Blake Webber. 
Tiësto will celebrate the release of this new single tonight at Ayu Dayclub as part of his Las Vegas residency and partnership with Zouk Group and Resorts World Las Vegas with a launch party to kick off his summer performances entitled "Don't Be Shy Las Vegas". The official music video for the track debuted on the resort's 100,000-square-foot West Tower LED screen in conjunction with the song's debut on 12 Aug. 
Tiësto: "Karol G is such a talented superstar and the perfect addition to this song – When I first heard her smooth vocals on 'Don't Be Shy' I was instantly hooked. I am thrilled to share this collab with both of our fans around the entire world." 
Karol G: "Working with Tiesto has been one of the most beautiful surprises that has happened to me this year. I feel like I manifested it. My playlist includes various songs of his and I listen to them often. When I was approached with the idea to work together and on top of that to sing a song in English my excitement was on another level. First, for the opportunity to be able to work with Tiesto and second because it would be my first time singing a song completely in English. I've always wanted to be known for my music in Spanish, but I also feel like right now it's the perfect time to experiment, expanding and conquering a different audience."
The song is the second from Tiësto's partnership with Warner Music. It follows the September 2020 release of 'The Business', which has garnered over 1 billion streams to date. The song debuted in the top 10 in 10 countries upon release, reaching #1 on the US Dance Charts. The official music video for the track has so far clocked over 132 million views on YouTube.
Tiësto & Karol G 'Don't Be Shy' is out now on Warner Music
© justaweemusicblog.com