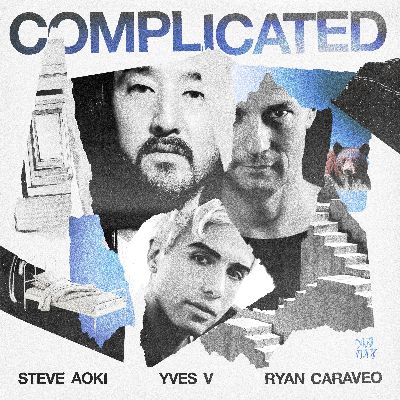 Steve Aoki, Yves V, and Ryan Caraveo join together to pay tribute to Avril Lavigne's classic pop-punk single 'Complicated'. Their modern makeover interpolates the chorus, while adding a fresh set of introspective lyrics, with an electro pop soundscape and newly written verses, as the trio aim to revitalise the track. 
Arriving alongside the single is a John Frost-directed music video, which navigates viewers through several fractured dream states. Peering into the minds of Aoki, Yves and Caraveo, the video aims to highlight how complicated the mind and self truly are, as the camera twists and turns through a series of complex dreams within dreams.
Steve Aoki: "My roots are in the punk scene, and that kind of music has always had a special place in my heart. So when Yves brought the idea to me to rework 'Complicated' by the ultimate pop punk queen, Avril Lavigne, I jumped on the opportunity. And the lyricism Ryan brought with his new verses only expands upon the truly classic hook."
The track marks the latest collaboration between Steve and Yves V since Yves remixed 'A Lover And A Memory' off Aoki's 'Neon Future III' LP. 
Yves V: "I was so excited to link up with Steve Aoki on this single as our first collaboration. I'm a huge fan of pop music, and Avril as an artist, so to add our electronic spin alongside one of my favourite peers onto a track as classic as 'Complicated,' and bring it to audiences in 2021, felt amazing. I hope the fans enjoy it just as much as we did creating our production!"
The top-line on the track is sung by Seattle-born alt-hip hop artist Ryan Caraveo. Caraveo brings his own interpolation to the song, referencing Lavigne's chorus, but with different lyrics alongside newly penned verses. He sings, "Why do I go and make things so complicated," spinning the original meaning towards feelings of frustration within oneself, rather than Lavigne's version, in which her anger is directed at an outward source. 
Ryan Caraveo: "Man, working with Steve Aoki is really a full circle moment for me. Back in 2013 I was just a kid at one of his shows - fast forward many years to a completely different life and all the sudden we're working together and covering one of the biggest songs ever from the queen herself Avril Lavigne and it's pretty surreal to be honest. I've always loved and been influenced by electronic music and cannot wait to hear this at the festival with the homies."
'Complicated' is out now on Dim Mak Records.