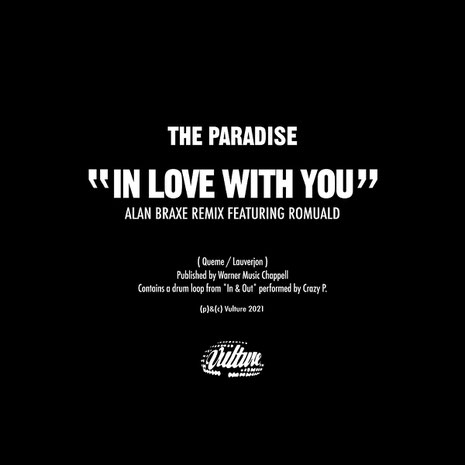 In 2003 Alan Braxe and friend Romauld teamed up as The Paradise to release 'In Love With You', receiving support from artists such as Justice, Armand Van Helden, Duke Dumont, Breakbot and more. Since its release, Alan has been playing an alternative version of the original in clubs, keeping it as a secret and personal tool in the mechanism of his DJ sets. Now, after 12 years he shares the record as he releases it on his own Vulture Music.
Alan Braxe: "Since 2009 I've been playing an alternative version of the song in clubs featuring Romuald's vocals that were not in the original. This new version was originally created in a hotel room, last minute before a DJ set. It's quite repetitive, almost absurd, you could say 'French House' in fact. While the pandemic has forced live music to cease at the moment and I can no longer play it in clubs, we both thought that the time has come to release it."
Braxe is a name synonymous with France's electronic music scene. With a consistent flow of output over the last two decades, he has always aimed to maintain the relevance of his music that boasts 100 titles; his rework of 'In Love With You' continues to demonstrate his house sound.
From the very beginning of his career, Alan embraced Paris' underground nightclub scene as a focal point for his sound which then saw him form a creative partnership with Daft Punk's Thomas Bangalter. The duo that officially started out with 'Vertigo'; Braxe's first single, released via Bangalter's 'Roulé' imprint in 1997, went on to define the one-off alliance that produced the he track 'Music Sounds Better With You' as Stardust.
Braxe's Vulture label has provided an open and musically free space for artists such as Lifelike and Kris Menace. The imprint, which was re-launched last year with his 'The Ascent' EP' has been a platform for his own releases as well as collaborations with the likes of Fred Falke.
Lending his vocals on the track, Romauld has been an active singer in the French music scene for the last 20 years. He has also released on Braxe's Vulture, as well as labels such as Kitsuné and Edbanger. He has also worked on projects such as Justice's 'Woman' and 'Woman Worldwide' LPs: a collaboration that opened the door to him entering the club of Grammy Awarded honoured artists.
The Paradise 'In Love With You' Featuring Romauld (Alan Braxe Remix) is out now on Vulture Music.
© justaweemusicblog.com