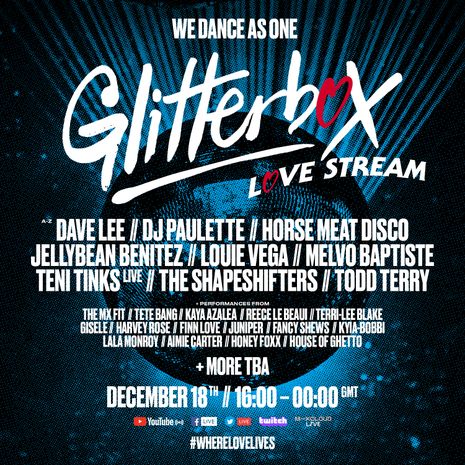 Glitterbox Virtual Festival joins forces with sister label Defected to present We Dance As One, a live-streamed music event from Defected. On Friday 18 December Glitterbox will provide the festive party, encouraging party-starved people around the world to get on their best dancefloor-ready outfits and tune in to the 'Love Stream' to let loose safely at home. Glitterbox's glittering production, confetti moments and atmosphere will be replicated digitally, allowing more clubbers to unite for the love of house and disco than would ever be possible physically.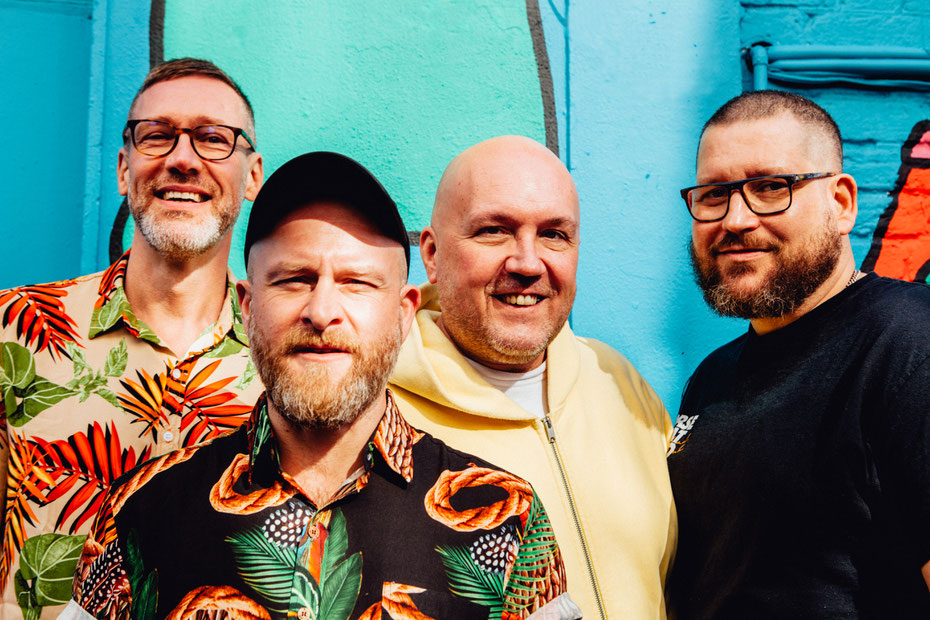 Soundtracking the 8-hour virtual party will be sets from Dave Lee, DJ Paulette, Horse Meat Disco, Jellybean Benitez, Louie Vega, Melvo Baptiste, The Shapeshifters, Todd Terry and Teni Tinks singing live. Alongside the DJs, Glitterbox's crew of dancers and performers will be broadcast from socially distanced locations around the world, from London to Miami.  
Designed to raise awareness for the plight of the events business in the UK and around the world due to the pandemic, Defected's We Dance As One events in October and November apparently 'saw over 2 million viewers tune in from all corners of the globe'. The whole series is supported by the Night Time Industries Association and Association For Electronic Music, to show solidarity with an industry that has largely been ignored and dismissed by the UK government.  
Once again taking this opportunity to bring on board workers who have been displaced, December's event will be produced by over 25 production techs, videographers and creatives assisting the Defected team, who have either lost work or faced redundancy as a result of events cancellations and club closures. 
Appearing on Sky News Breakfast on Friday 27th November, Defected's founder Simon Dunmore said: "The effect of the lockdowns and restrictions across the whole industry have been catastrophic. The high profile casualties and the visibility of those people is just the tip of the iceberg. You have bar staff, security, technicians, the travel sector, hotels… and the effects of that are going to be felt long and hard." 
Joining him was Mattie Evans, the Director of production and logistics outfit NTRP, who Defected have brought on board to work behind the scenes on We Dance As One events. Mattie said: "We still have no start date in terms of when we can actually go back to work, and a lot of the guys we work with – venues, crew and production teams, have been out of work since March with no real capacity to work in any form whatsoever… so it's been great to run the streams, it gives us a chance to employ many people who haven't had any work since March."
Defected will use the live stream as promotion for the individuals, to advertise their skills and give them some recognition. 
Having raised money for mental health charity Mind with the first event in October and then for The Trussell Trust in November, the event will be raising money in support for The Keith Haring Foundation, whose mission is to sustain, expand and protect the legacy of Keith Haring, his art, and his ideals. The Foundation supports not-for-profit organisations that assist children as well as organisations involved in education, prevention and care related to AIDS.  
Friday 18th December will also see the final episode in Defected's first ever roundtable series We Talk As One, which has brought together over 25 heads of nightlife and music culture to discuss the state of the industry and hopes for the future. We Talk As One on Friday 18th will be live streamed on Defected's LinkedIn platform from 1pm GMT. 
Glitterbox presents We Dance As One will be live streamed across Defected's YouTube, Facebook and Twitch platforms on Friday 18 December.
© justaweemusicblog.com