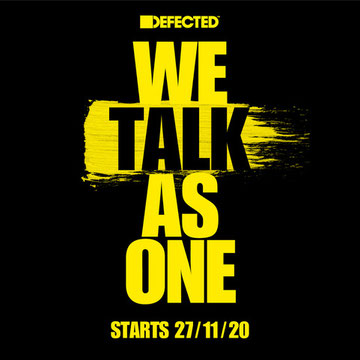 Defected launches its first ever four-part thought leadership series We Talk As One from tomorrow, Friday 27 November to Friday 18 December, bringing together over 20 people to discuss the present and future of the music and digital media industries, in a free-to-access virtual roundtable format.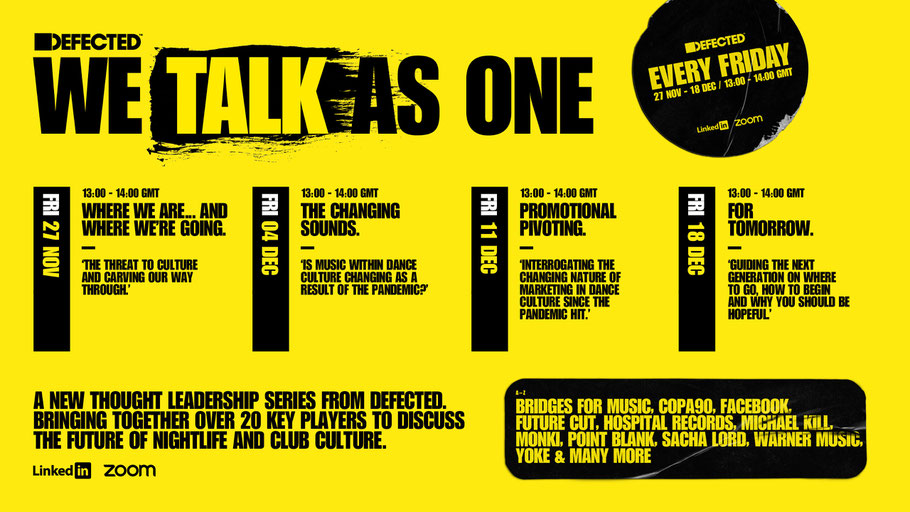 With each event starting at 1pm GMT, speaking across four weekly sessions streamed on Defected's LinkedIn channel will be business leaders and speakers from the likes of Warner Music, YouTube, Facebook, CAA, COPA90, Beatport, Bridges For Music, Yoke Network, Full Fat, Hospital Records and Defected, as well as nightlife executives Sasha Lord (co-creator of Parklife festival and The Warehouse Project, and Night Time Economy Adviser for Greater Manchester), and Michael Kill, the Chief Executive for the Night Time Industries Association. Joining them will be DJs and broadcasters DJ Paulette, Monki, Funk Butcher, Fosta and more.
The first We Talk As One will precede Defected's next virtual party in the evening, the second in a three-part event designed to raise awareness for the plight of the events business in the UK and around the world in this post-pandemic era. It was supported by the Night Time Industries Association and Association For Electronic Music to show solidarity with an industry that has largely been ignored and dismissed by the UK government, and apparently saw 1.6 million viewers tune in from 92 countries, with an average watch time of 25 minutes. Now diving deeper into the current state of affairs, We Talk As One will investigate the issues affecting every person within the music business and peripheral industries, and asking what's next, at the end of a very strange year for all. 
© justaweemusicblog.com 
ROUNDTABLE 1, FRIDAY 27 NOV – Where we are, and where we're going to… 
The first session will seek to take stock of where we are now – from neglect by the UK government causing mass redundancy and personal loss, to later intervention, sporadic funding, and the resultant fall out. What is the position for nightlife now in the UK? Where does this leave night clubs, events, concerts and the culture at large? What can we learn from other industries, how should we think about things moving forward? 
This discussion will address these issues, and look to build a picture of our immediate future. The speakers will debate the serious threat to culture and look to carve a way through. 
Speakers: 
Dan Chalmers – Director of YouTube Music 
Ella McWilliam – Co-Founder, Full Fat  
Maria May – Senior Agent, CAA 
Michael Kill – CEO, NTIA  
Sasha Lord – Night Time Economy Adviser for Greater Manchester 
ROUNDTABLE 2, FRIDAY 4 DEC – The changing sounds 
Is dance music changing as a result of the pandemic? Are artists collaborating more with audiences than they are with one another? As we can't hear techno in club environments, should we expect more melodic music, and slower tempos? Or might we see an increased focus on songwriting infiltrating the club music of tomorrow. Are we preparing for the worst or on the cusp of something special? This session will let get closer to the music itself and those making it.  
Speakers: 
DJ Paulette – DJ & Producer 
Monki – DJ & Broadcaster 
Simon Dunmore – Founder, Defected   
Tunde Babalola – Producer (Future Cut) 
ROUNDTABLE 3, FRIDAY 11 DEC – Promotional Pivoting 
How do marketers impact and disrupt the lives of audiences without guerrilla activity, outdoor media, club flyering and the well-trodden tactics of the past? From social platforms to the media content, this session will interrogate the changing nature of promotion through dance culture since the pandemic hit. This session is about the new and necessary machinations of music promotion, uncovered.  
Speakers: 
Bob Workman – Senior Vice President, Music Partnerships at Warner Music 
Jidé Maduako – CEO, Yoke Network 
Nick Lewis – Director Creative Strategy, COPA90 
Tom Coxhead – Head of Digital Marketing, Defected 
Vanessa Bakewell – Global Client Partner - Entertainment, Facebook 
ROUNDTABLE 4, FRIDAY 18 DEC – For Tomorrow  
The final panel will be about inspiring the next generation, seeking to fuel hope, and identify what is important right now. The speakers will dig for the best nuggets of advice for those hoping to make a start in the music industry, direct from academies, writers, producers and retailers. From investment in production, to the types of courses available, to what to do out of your bedroom set up, this session will find out where to go, how to begin, and why you should be hopeful.  
Speakers: 
Chris Goss – Co-Founder, Hospital Records 
Kwame Safo aka Funk Butcher – DJ & Founder, Houseology 
Rob Cowan – CEO & Founder, Point Black 
Terry Weerasinghe – Chief Strategy Officer, Beatport  
Thulani Headman aka Fosta – DJ & Co-Founder, Bridges For Music 
Wez Saunders – Managing Director, Defected