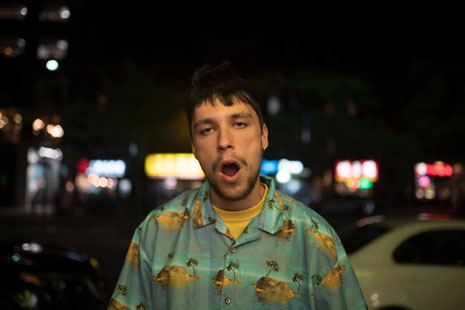 French DIYer Kaky recently sampled Sony Music's offices in France for his BTS YouTube series 'KakySound'. The label were apparently so impressed by his ability to use normal every-day objects to create tracks, that they decided to sign him up straight away. The announcement follows the release of his second single 'C'est Pas La Peine' in which he continued to unveil surreal production techniques in his music. 
The single created an introspective journey, with the beat driven by the hook of a ping pong ball bouncing sur la table; an illustration of a curious mind that's able to flip soulful vocals and hyper rap verses, aiming to lure his audience to heightened levels of wonder and intrigue.
The bedroom producer is a serial abstract dreamer who pays close attention to the minutest sounds in everyday life. A production technic he has transformed into a content concept with his visual 'KakySound' series which have started to attract a loyal cult following across his YouTube and Instagram accounts.
In the latest 'episode 'KAKYSOUND x SONY MUSIC - Hors Série #2', he works with everything from the office's entrance door's beep to the coffee machine pouring liquid into a cup, to the lift up to the label's executive floor in order to form the music.
Watch as he collects these sounds and manipulates them into something completely new that hopes to appeal to sound art nerds and hip hop kids alike.
© justaweemusicblog.com