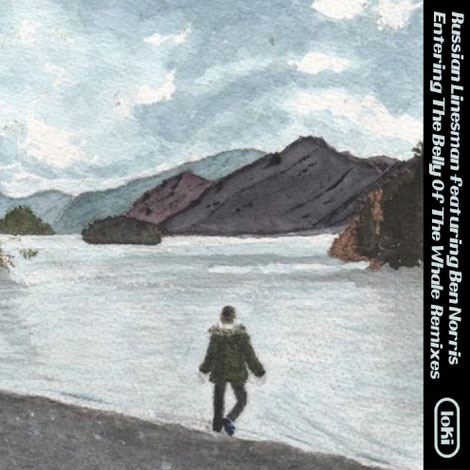 The Russian Linesman continues his 2020 journey and gets side-tracked halfway through his six-part 'Monomyth' EP series with this latest release. This remix project features two dancefloor orientated interpretations of 'Entering The Belly Of The Whale' (the original of which appears on EP2 of the current series) courtesy of Patrick Prins and studio duo, Nick Warren & Nicolas Rada.
Russian Linesman: "This song features poetry from one of my favourite poets - Ben Norris - who told a heart-shredding story that truly expresses 'Entering The Belly Of The Whale', done this while recording his parts for BBC R4 'The Archers'. Last time I worked with a poet was in year 11 at school, when my English teacher invited beat poet Adrian Henri into class!" 
Patrick Prins is possibly one of the most influential Dutch producers of the past two decades. His remix portfolio is extensive and includes Sia, Daft Punk, Felix, The Doors, Björk, Pet Shop Boys, Dua Lipa and Najwa Nimri, amongst many others. 
A man of numerous artistic aliases, he has reinvigorated his Castle Trancelott guise (whose 'The Gloom' on the Sasha & Digweed 'Northern Exposure' mix comp made a huge mark on a young and impressionable Russian Linesman back in 1998 when he first discovered it) to create the remix. Conjuring a future-retro vibed, melodic techno track that utilises the vocal narrative of guest contributor Ben Norris to maximum effect, Prins takes the thematic art of storytelling of the EP series to a new dimension.
The Soundgarden's electronic figurehead, Nick Warren, has re-connected with Argentinian Nicolas Rada for their contribution to this remix venture. With their creative chemistry is in full flow, they build layers of piano-led beats onto a low-slung progressive groove to create their interpretation of the Linesman's 'Entering The Belly Of The Whale'.
Each EP in the Russian Linesman's 'Monomyth' EP series (from which this remix project has evolved) is named after the relevant part of the Hero's Journey (referenced from Joseph Campbell's book 'A Hero with a Thousand Faces', which analyses centuries of human storytelling) and is an artistic abstraction of the concept of the Monomyth. The Monomyth, or Hero's Journey, is the common template of a broad category of storytelling that involves a hero who goes on an adventure, and in a decisive crisis wins a victory, then comes home changed or transformed. The Russian Linesman's own adventure will continue soon with "Monomyth IV – Apotheosis".
© justaweemusicblog.com