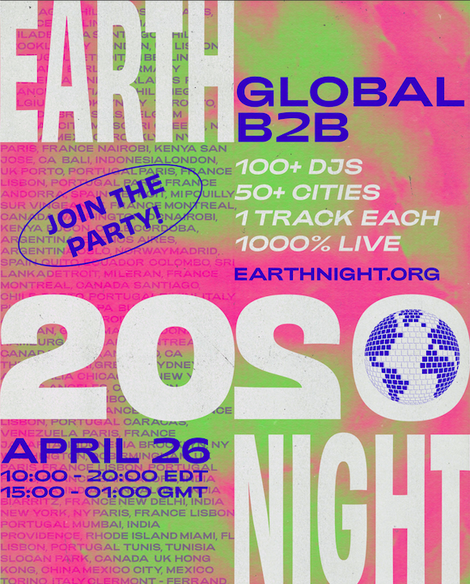 Tomorrow, 26 April 26 2020, DJs For Climate Action (DJs4CA) will broadcast the 'largest global back-to-back (B2B) set on record', with over 100 DJs playing live from more than 50 cities worldwide in celebration of the third annual Earth Night. Originally planned as a weekend of parties in nightclubs around the world to honour the 50th Anniversary of Earth Day, DJs4CA will now host a day-long live broadcast DJ relay demonstrating the music community's ongoing dedication to addressing the climate crisis during the COVID-19 pandemic.  
In conjunction with Club House, Haute To Death, and other Earth Night-affiliated "teleparties" scheduled that week, the Sunday B2B will serve as their main event.
Earth Night is a global initiative harnessing the energy of nightlife to generate climate action. Since its inception in 2018, it has engaged the participation of artists like Mija, Soul Clap, Jamie Jones, Little Boots, and A-Trak, and many others. 
Last year it organised eight events worldwide attended by 3000 people, and curated an eclectic compilation featuring nearly 60 new tracks collectively raising $20,000 for beneficiaries working towards climate solutions.
With the coronavirus forcing a shift from clubs to living rooms, the goal this year is to focus more on fun, spectacle, and global engagement than on fundraising. 
The B2B livestream will highlight organisations doing important climate work and drive viewers to earthnight.org for opportunities to take further action. DJs4CA views this moment as an opportunity to reflect on the nature of the nightlife industry pre-coronavirus, and draw wisdom from a period without touring, festivals and clubbing to envision new, more sustainable ways forward.
© justaweemusicblog.com