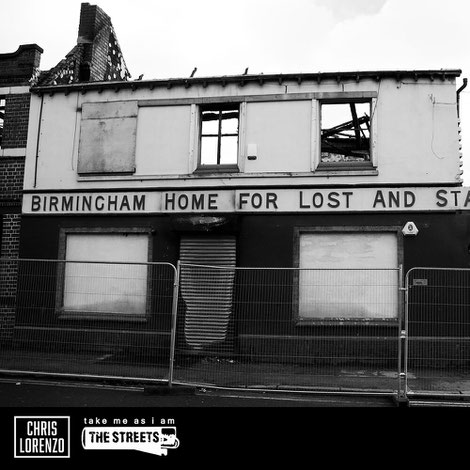 Chris Lorenzo and The Streets have collaborated on the bass music/D&B hybrid 'Take Me As I Am'. The track elements of D&B, jungle, bass house and with Mike Skinner's songwriting and delivery. The track has already caught the attention of Zane Lowe who ran its world premiere on his Beats show this week.
Mike Skinner: "Chris is the best producer in the clubs I go to; I play like eight of his songs every time I DJ, so when he sent some of the new songs that he made I had to be involved. Chris Lorenzo making D&B? That's a yes from me. I just sat with it and imagined what was happening as I heard the song, which isn't hard to do as I see that every weekend." 
Chris Lorenzo: "I'm so happy myself and Mike found a way to work together. When I heard the vocal I was like 'Fuck me, he's killed it!' That's what I wanted to create with The Streets: a collaboration in every sense of the word which is true to both of our sounds and yet not what you would expect from either of us." 
Chris Lorenzo's house and bass sound has become increasingly prominent throughout the UK, US and many other parts of the world, with his production and DJ sets proving popular too.
The Streets – or Mike Skinner to his mum – burst onto the UK music scene in 2002. Described as the voice of his generation, the mix of beats and rhymes of Original Pirate Material, led to a Mercury Music Prize Nomination, and both critical and commercial acclaim.
That was just the beginning of the journey that would run through the album 'A Grand Don't Come For Free', which spawned the UK No.1 'Dry Your Eyes', as well as a host of Top 10 singles and went multi-platinum around the world.
Skinner brought The Streets back in 2018 with a tour and is working on his first feature film, which he has written, will direct, and star in - along with a new album to accompany it, expected in 2021. 
A mixtape featuring the likes of Flohio, Ms Banks, Slowthai, Idles and many others will come before the end of 2019.
'Take Me As I Am' is out now and is the lead single from Chris Lorenzo's new studio album, 'Late Checkout', which lands 11 October, both on his own Sixty6Music Imprint.
© justaweemusicblog.com