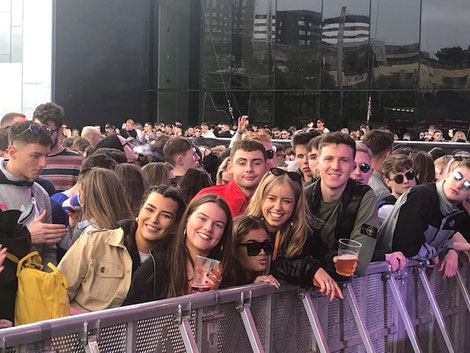 The Sunday at Electric Frog & Pressure Riverside Festival is always legendary. It's easily the biggest day of the weekend, likely due to many people having the Monday off. As you would expect, like previous years, the festival was absolutely rammed as Central Scotland clubbers turned up in their thousands for their annual May Bank Holiday Sunday dose of techno from a mix of huge techno artists and underground acts.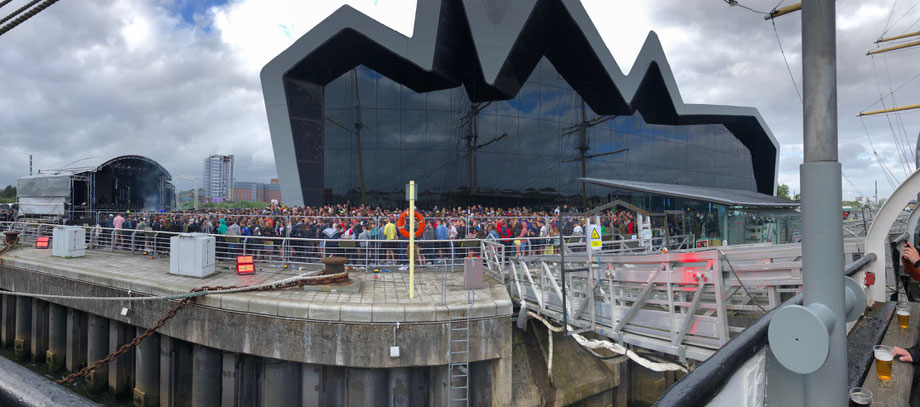 We arrived late afternoon and there was still a huge queue of people waiting to get in - always a great sign. As you can see from our review of Day One, rain was a major issue for Saturday's party, so thankfully the weather was a lot kinder today, with the sun even popping its head out from behind the clouds now and then. In the rain's place this time though was the wind, and bloody hell, those gusts would rip right through you over at the South Stage beside the River Clyde!
As it was dry, we frequented all key areas of the event, taking in the sounds of I Hate Models, then Daniel Avery B2B with Slam at the Maximum Pressure South Stage; the end of the set from Daphni B2B with Hunee on the Feel My Bicep Main Stage and still even had time to check out the Forty clothing brand sponsored ViP area on the Tall Ship. 
The food areas were situated over at the, new for 2019, Dockland Stage, where a loyal crowd of clubbers seemed to be enjoying the intimate covered surroundings and the music from the DJs on rotation. For future reference, we recommend the haloumi on Indian flatbread. Amazing!
Back at the Main Stage, rain was back on the agenda just after 8pm for a 20-minute downpour. With limited areas to shelter from this, it seemed to add to the atmosphere as people just seemed to think 'fuck it' and danced in the rain with hands in the air to Bicep's set. 
After a short transition, it was time for John Hopkins to perform live and close the Main Stage to a full and well up for it audience.
This was a tough weekend for Electric Frog & Pressure Riverside Festival. The weather wasn't kind at all on both days. Saturday's rain was relentless and the wind on Sunday was like a walk in the park on a cold December morning. Glasgow weather really sucks the big one sometimes! But apart from the loss of a number of possible walk-ups on the Saturday, it made no difference. Clubbers attended both days religiously in their thousands – Sunday had to have been close to a sell out too. After experiencing another fantastic weekend, it gets us excited once more for next year's event! 
And as we always mention, it's right on our doorstep! A 52-minute walk right to our front door actually! 
Well done to all involved.
© justaweemusicblog.com