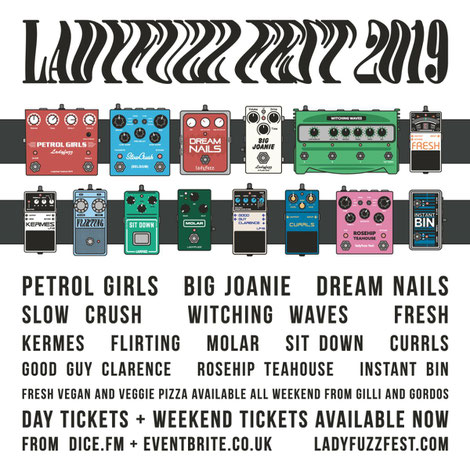 Ladyfuzz is a creative collective showcasing women, non-binary and gender non-conforming creatives and musicians. For the last four years, they've released zines, curated events and apparently created an internationally recognised hub for non-male artists and creatives, with a list of high-profile friends and fans of the zine including Hayley Williams of Paramore, Julien Baker, The Tuts, Personal Best, Big Joanie, Petrol Girls and many more.
This year sees the second annual Ladyfuzz Festival at The Green Door Store, Brighton taking place on 3 and 4 May, with the event growing bigger after an apparent sell-out inaugural success in 2018.
The festival showcases a 100% gender-diverse bill of artists and will kick off on Friday 3 May with appearances from: Holy Roar Records' Slow Crush (Belgium), self-proclaimed "black feminist sistah punks" Big Joanie, Brighton alt-punks Sit Down and fuzz-soaked locals Good Guy Clarence.
Saturday is an all-day affair, playing host to London punk witches Dream Nails, Austrian post-hardcore Petrol Girls, lo-fi punks Fresh, outsider indie-punk trio Witching Waves, "post-ironic" fuzz five-some Flirting, Leicester trash-pop four piece Kermes, London punks Molar, garage-rock trio Currls, sparkly bedroom-pop outfit Rosehip Teahouse, and two-piece post-punks Instant Bin.
Founder of Ladyfuzz, Lucinda Livingstone of Brighton band Cultdreams (formerly Kamikaze Girls), says: "Ladyfuzz has been growing as a community rapidly since I put out the first zine back in 2015. Last year we decided to put on a small festival in Brighton—it sold out and was a huge success, so this year we've expanded to turn it into a two day festival, and our plans for next year are even bigger. 
"Since we started we've been curating line-ups full of women, non-binary and gender non-conforming individuals. We've been doing what other festivals say isn't possible, and we want to continue to celebrate the amazing acts we feature and work with each year through our annual live event."
This year the festival is sponsored by local rehearsal and recording studio Small Pond, and throughout the festival, organisers will be raising money for Survivors Network Brighton.
© justaweemusicblog.com