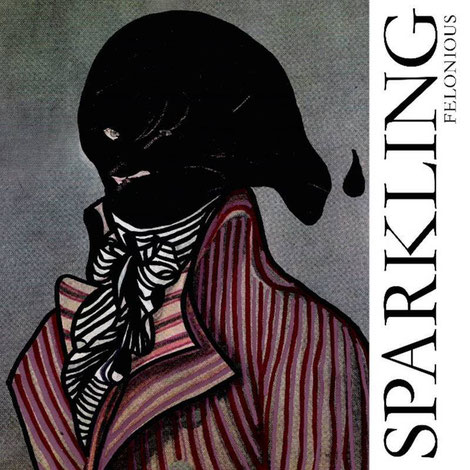 'Felonious' is the second album from Carsten Mørch-Bentzen (vox) and Jens Christian Madsen (synths), aka Danish duo Sparkling, an act that likes to take its time between releases, having previously released only one album and an EP since 2002. Like a Scandinavian Future Islands meets Foals, the first single from 'Felonious' came out late 2018 entitled 'Say Goodbye To The Ragged Tiger'. A song about the knots and beauty of life. Casting off the entanglements of the past little by little as new perceptions become apparent through its progressions. 
With a powerful bass hook, epic chorus and new wave ending. 'Fractions' was recently unveiled as a single and outpours a darkly-toned synth-based track which expresses the strong love that transforms someone from a dreamer flying restlessly in space to a man on earth. It's about maturity and embracing getting older and becoming more aware of your surroundings and inner life.
Elsewhere on the album, 'Blossom Blood' echoes Simple Minds and A Flock Of Seagulls with its reflective '80s-tinge. 'Now I'm None' incorporates more dense abstract sounds in a cacophony of futuristic mind-bending warp whilst 'Flashlight Heart' has a hopefulness in its twisting pad sounds, acoustic washes and off-kilter sax motif with a Bono-esque vocal. 
The principal founding duo of Sparkling have entrenched themselves in Copenhagen's small yet intense music scene, having worked in collaborations with artists who have added to the electro-indie tapestry of the album. These include guitarist Oliver Hoiness (Skammens Vogn, Kira Skov, etc.), bassist Peter Buch, jazz saxophonist Jesper Løvdal, guitarist Anders Mathiasen (Murder, Vessel, etc.), guitarist David Rosenkilde, pianist Steen Rasmussen, and Benjamin Vinding on berimbau.
Whilst working on the album over the past few years, the duo teamed up with film festival CPH:PIX who they agreed could use excerpts from the duo's cinematic pop music in the festival trailers which screened in movie theaters all over Denmark. Sparkling have toured intensively across Denmark incl. SPOT and Skanderborg Festivals, been artist of the week on Hitquarters.com and collaborated with producer/remixer Dave 'Rave' Ogilvie (Bowie, N:I:N...).
'Felonious' is out 23 April 2019.
© justaweemusicblog.com