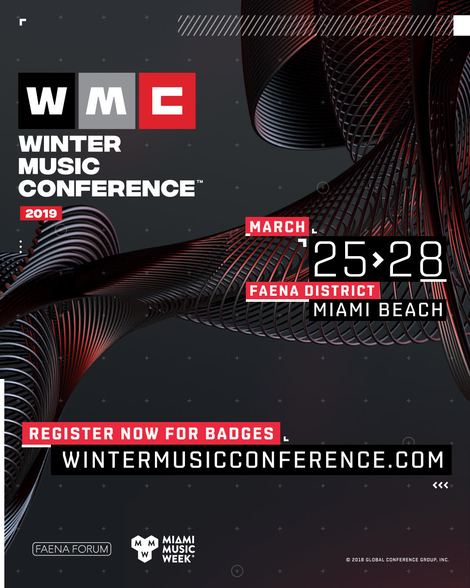 Winter Music Conference at Faena District [WMC], which is set to take place 25-28 March 2019 at the Faena Forum, Miami Beach. recently announced its first keynote speakers, programming and additional partnerships. Dr. Douglas Rushkoff - named one of the "world's ten most influential intellectuals" by MIT - will be delivering a keynote presentation centred around his "Team Human" Podcast and forthcoming book which grapples with complex issues of agency, social justice, and all those quirky non-binary corners of life. 
"Team Human" strives to amplify human connection. Through his podcast,  Dr. Rushkoff engages in real-time, no-holds-barred discussions with people who are hacking the machine to make it more compatible with human life and helping redefine what it means to stay human in a digital age. 
Dutch DJ, record producer, and remixer Armin van Buuren will lead a presentation on "A State Of Trance", where he will be joined by other names in trance music to discuss the progression of one of dance music's favourite genres. Having evolved from a small radio show into a wide-ranging and far-reaching brand with many different spin-offs, "A State of Trance" is possibly one of the world's biggest and most popular dance music brands. Built from the ground up since the very first episode of Armin's radio show in 2001, ASOT now entails a label and event series to boot.
Irvine Welsh, an acclaimed and often controversial writer of novels, stories and stage and screenplays - most notably "Trainspotting," "The Acid House" and "Ecstasy" - will be joined by acid house originator DJ Pierre for a discussion on the evolution and impact of acid house on global music and culture. Welsh has explored acid house themes in many of his written works, and in addition to performing as a DJ, he's crafting his debut album which will be comprised of classic acid house sounds. 
As a member of Chicago-based electronic group Phuture, DJ Pierre helped to produce the song 'Acid Tracks' which is considered to be the first acid house record. Together, they will explore acid house from its earliest moments and show how its impact is still felt today.    
Laidback Luke will host "The Power of Creative DJing" main stage presentation. The Mixmash Records founder has weaved his way through multiple dance music genres during his career. Originally making a name for himself in the house and techno community, Luke would possibly become one of the most prominent artists of the 2010's EDM scene. Through social media, Luke's been very vocal about his appreciation and respect for the art of DJing and often communicates directly with his following; offering them tips and tricks of the trade.      
Platinum-selling DJ and producer Sam Feldt will be joined by a special guest in conversation about green philanthropy. Established by Feldt in 2018, The Heartfeldt Foundation is a non-profit platform that promotes a sustainable lifestyle and a healthier planet by using the reach and influence of ambassadors in the fields of music, sports, and entertainment. Feldt and his special guest will take those in attendance on a journey through the ways we can make the world a better place for the foreseeable future.  
WMC // Industry attendees will be treated to a closing night sunset cocktail party courtesy of Nulu Music at The Faena Hotel Miami Beach's "Tree Of Life." As the sun sets to the beats of DJs Anané, Christian Mantini and special guest Louie Vega, this party celebrates the 10-year anniversary of Nulu Music, an independent label started and founded by Anané in 2009 in which she honoured her Afro roots by creating an international platform for Afro House artists coming from Cabo Verde, Angola, Mozambique, South Africa, Congo and Nigeria, to name just a few. 
© justaweemusicblog.com