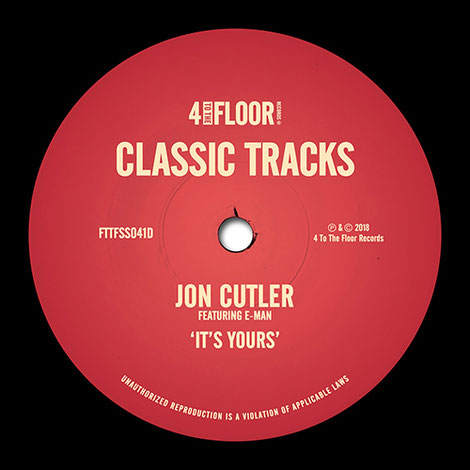 4 To The Floor revisits Jon Cutler's soulful track 'It's Yours' in a ten-track package featuring remixes from the likes of Joey Negro, NiCe7 and many more. Originally released in 2001, the Brooklyn producer Jon Cutler enlisted E-Man on the recognisable vocal hook, coupled with live sax, on his 'Original Distant Music' and 'Jon's B-Side Breakdown' mixes. 
Joey Negro ups the tempo and puts the vocals at the forefront of his composition with blissed-out keys. Frankie Feliciano breaks the arrangement right down in his 'Ricanstruction Mix' adding in down-tempo drums and guitar, as well as a pacier and synth-focused 'Retro Mix'. 
Italian production duo NiCe7 bring in their tech-house influences on a deeper and darker remix and DJ Fudge lays down a pumping bassline over groovy synth flares. 
David Penn provides a more main room sound in his 'Vocal Mix' and German DJ Ian Pooley injects some funk with upbeat sax riffs in his 'Main Mix'. A wobbling 'Bass Dub' from Jay-J tops off the remix package.
It's out 3 August.
© justaweemusicblog.com