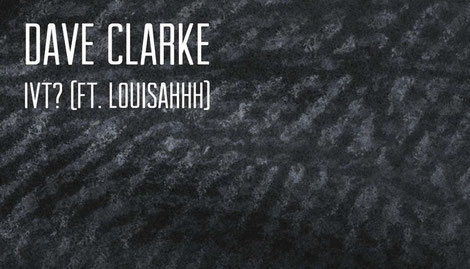 'IVT?' Is the third single taken from Dave Clarke's third studio album 'The Desecration Of Desire', featuring new remixes from Chloe and the Mad Professor. The digital release is available from today and its on vinyl on 6th April. The track is Dave's interpretation of the Department S track 'Is Vic There?' - a track that meant so much to him when growing up - a dark, heavyweight, slow motion slice of new wave with 
Louisahhh's vocals finishing it.
Clarke: "My first collaborator was Louisahhh on the lyrical cover of'"Is Vic There?' Her voice is outstanding and her company educational, so I doubt this will be our last work together."
Stepping up for remix duty on the release are Mad Professor and Chloé. Apparently Mad Professor is considered one of the leading producers of dub music's second generation and was instrumental in transitioning dub into the digital age, with a host of remixes under his belt for the likes of The Orb, Beats International, Sade and 400 Blows and Massive Attack. On this remix he delivers his dub sound interlaced with synth stabs, snare drums and Lousahhh's vocals.
Next up is France's DJ/Composer Chloé. As much a film music enthusiast as an accomplished guitar player, she stumbled into the electronic scene early on, developing a curiosity for sound machines which she utilises to the max on this remix. Stripping the elements back for a minimal approach, the kick drums and high hats drive the track with the bassline and synths giving a firm nod to early-80s new wave.
© justaweemusicblog.com