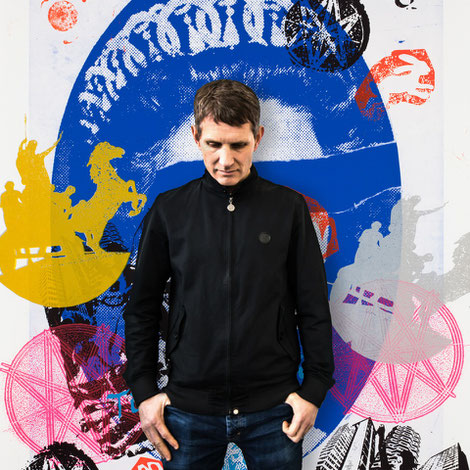 Ralph Lawson's Basic Vision label today releases the second in a four-part series of limited edition 12" vinyl EPs, 'Basic Vision 001'. The full series will then be compiled into a 14 track album entitled 'Back To Basics - Rare Classics', available from end April 2018. 'Basic Vision 002' features more tracks for collectors including the Mood II Swing Border Insanity dub of 'Flame' by Crustation. Championed by many DJs including Raresh and Apollonia, this stripped down cut was only found on the b-side of the original release at a low pressing level. 
It has never been licensed for vinyl, as the original master was lost for nearly 20 years. Lawson was determined to get this track onto the compilation as it is a bona fide Back To Basics bomb so he managed to trace down the master to a dusty DAT tape in a basement in New York and re-mastered from tape with a single cut on one side to ensure a really loud pressing for DJ use. 
Flip the vinyl over and you will also get 51 Days 'Paper Moon', originally recorded in 1994. The record is completed with Terence FM 'Feelin' Kinda High', another classic from Cajmere's Chicago based imprint Cajual. 
The limited edition vinyl series and 14-track album both feature original artwork from the 'godfather of punk', Jamie Reid. The four vinyl sleeves will together form one piece of collectable artwork.
The 'Back To Basics – Rare Classics' project, which has taken over two years to compile, includes 14 tracks from artists Neal Howard, Cajmere, Cassio Ware, Mood II Swing, Eddie Fowlkes, Black Science Orchestra and Armando, featured across the 12" vinyl EP releases. All the tracks have been cut to vinyl from the original master studio recordings.
"The series focuses on highly collectable classic records from the club's long history that paints a true picture of the music played on the dancefloor. The aim has been to create an album that anyone can enjoy listening to but is a valuable series for the aficionados." Ralph Lawson. 
Ralph Lawson has been part of the bricks and mortar of Dave Beer's Back To Basics since its inception, going on to become music director - Daft Punk, Danny Tenaglia, Derrick Carter and Francois K all made trips to Basics for their earliest UK gigs. Ralph has also helped the club win 5 major industry awards so far for Best Club and has been personally nominated for Best Breakthrough, Best DJ and Lifetime Contribution.
Lawson then founded electronic music label 20/20 Vision. Alongside production partner Carl Finlow he produced a series of tracks including 'Raptures of The Deep' by Wulf n Bear and 'Lovelee Dae' by Blaze. 
The 20/20 Vision record label has apparently been influential in building careers for a multitude of international dance music artists including Maya Jane Coles, Crazy P, Huxley, Motor City Drum Ensemble, Paul Woolford and Audiojack. 
Lawson then became an integral founder of the live electronic project 2020Soundsystem, touring constantly around the world and hitting festivals from Sonar and Exit to Glastonbury and Burning Man.
© justaweemusicblog.com