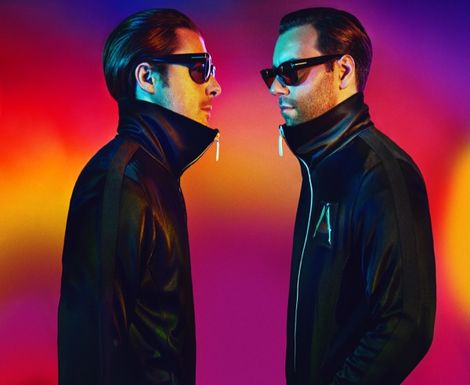 Axwell /\ Ingrosso recently released their 'More Than You Know' EP on Virgin EMI Records. The debut EP from the Swedish duo includes four tracks, including lead single 'More Than You Know' and 'Renegade'; the video for which was premiered on the duo's Instagram Stories. This is apparently the first time a music artist has ever premiered a music video on this platform. 
The four tracks on the EP showcase Axwell /\ Ingrosso's knack for creating tracks in a wide range of styles. The EP opens with the lead single and title track's rhythmic guitar intro before building to a chorus, whereas 'How Do You Feel Right Now' is a harder, more urban-influenced club track. 
The artwork and creative content has been led by the duo in collaboration with their Creative Director, Francesco Ragazzi. Having previously worked with artists turned fashion icons Pharrell Williams and A$AP Rocky, as well as Italian fashion and luxury lifestyle brand Moncler, Ragazzi's latest achievement is creating Milanese / Californian urban fashion label, Palm Angels. 
On working with the duo Ragazzi says: "As a medium, music is one of the most important elements in my work, and to have the possibility to work with it on the project is just a dream."
The EP follow's the duo's previous single, 'I Love You' featuring US rapper Kid Ink, which has apparently surpassed 46 million streams since its release.
The duo will also play in London on 28 May for a headline show at Creamfields' Steel Yard, having headlined the sold-out 15,000-capacity event in Liverpool last year. They will also bring their show back to headline the main stage at Creamfields festival later in the year.
Axwell Ingrosso were due to play the UEFA Europa final in Stockholm last night but following the atrocities in Manchester, cancelled the show. They said: 
"Due to the terrible events in Manchester we have worked with UEFA to agree that our performance at the Cup Final will be cancelled. It doesn't feel right to us to continue. The UK has been a huge part of our career and our hearts are with them now and to people all over the world suffering from any effects of violence, of any kind. We were very much looking forward to this but the occasion doesn't feel right for us. Music will always bring us together but we must respect how sad people feel today.
All our love. Axwell and Sebastian."
Check the EP here: https://axwellingrosso.lnk.to/MTYKEPPR