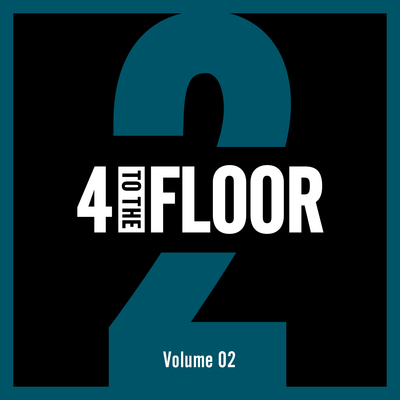 '4 To The Floor' is apparently the series for true house heads, presenting sounds for those who like to look beyond the frequently-played hits. Taking in both classic and contemporary material, the second volume in the series scratches house music's often polished surface to reveal 50 house music tracks.
DJ/producer legends like Kerri 'Kaoz' Chandler and 'Little' Louie Vega are present and correct, whilst the likes of Red Rack'em and Gerd Janson are amongst those apparently operating at the scene's cutting edge. The full spectrum of underground house music from across the globe is represented: bouncing dubs from Solid Groove and Cevin Fisher feature alongside iconic vocals from Robert Owens and Ultra Nate, and tech-laced cuts from Guti and Deetron rub shoulders with soulful numbers from Quentin Harris and Osunlade.
Presenting the music as the producers intended, in full-length, unmixed format, '4 To The Floor' Volume 02 may well be an essential release for DJs and true house music connoisseurs alike.
It's out 20 January on ITH Records.
© justaweemusicblog.com
TRACKLIST
01.           Robert Owens 'Was I Here Before?' (Fire Island Vocal)      
02.           Dee Dee Brave 'My My Lover' (Kaoz Again Mix)
03.           Hardrive 'Just Believe' ('Little' Louie Vega & Tony Humphries Extended Mix)
04.           First Choice 'Double Cross' (Danny Tenaglia Swing Mix)
05.           Groove Patrol 'Lost In The Groove' (Deal Mix)
06.           DJ Marley Marl 'Beyond'
07.           Memoryman (aka Uovo) & Rogue D 'Release Me'
08.           Terrence Parker featuring Merachka 'Open Up Your Spirit' (TP's Deeep Detroit Heat Remix)
09.           Vicky Martin 'Not Gonna Do It' (Mike Dunn Dub)
10.           Benji Candelario, Arnold Jarvis & Nina Lares 'Higher' (Benji Candelario Thump Mix)
11.           Geoffrey Williams 'Sex Life' (Armand's Abstract Da Funk Mix)
12.           Submission 'Women Beat Their Men' (Cevin's Peak Hour Dub)
13.           Three Kings featuring Jaygun & Bashy 'Shake Dat Booty' (Original Edit)
14.           Ultra Nate 'New Kind Of Medicine' (Tenaglia's Future Garage Mix)
15.           Crookers featuring Mike City 'Get My Mind Right'
16.           DJD presents The Hydraulic Dogs 'Shake It Baby' (Junior Jack Remix)
17.           Power In The Groove featuring Kemeisha Holmes 'It's Automatic' (Solid Groove Dub Mix)
18.           Red Rack'em 'Wonky Bassline Disco Banger'
19.           R.A.W. 'Asuca' (Tribal Mix)
20.           Solid Groove 'Straight Jackin''
21.           Afefe Iku featuring Osunlade 'Bodydrummin'
22.           Quentin Harris featuring Byron Stingily 'Hate Won't Change Me'
23.           Mijan 'Alright' (95 North Gospel Dub)
24.           Danny Clark & Jay Benham featuring SuSu Bobien 'Wondrous' (MuthaFunkaz Remix)
25.           Emanuel Satie vs Roberto Rodriguez featuring Max C 'Ride Your Body' (Sabb Afterdark Mix)
26.           Charles Dockins featuring Sheila Ford 'Journey' (Joey Musaphia's Ulterior Dub)
27.           Sole Fusion 'Bass Tone' (House Nation Mix)
28.           Dennis Ferrer 'Sinfonia Della Notte'
29.           Gerd featuring Marcoradi 'Still Believe'
30.           Osunlade presents Nadirah Shakoor 'Pride' (Yoruba Soul Mix)
31.           Black Magic 'Freedom (Make It Funky)' (Color 4 Frankie's Dub)
32.           South Street Player '(Who?) Keeps Changing Your Mind' (The Club Mix)
33.           Ben Westbeech 'Inflections'
34.           Kings Of Tomorrow 'Another Day' (Original Mix)
35.           Soul Clap featuring Nona Hendryx 'Shine (This Is It)'
36.           Shuya Okino featuring Navasha Daya 'Still In Love'
37.           Boe & Zak 'Looking For Love'
38.           Klub Family featuring Sybil 'When I Fall In Love' (Knee Deep Disco Club Mix)
39.           krankbrother 'One Eyed Jack's'
40.           Kiddy Smile 'Let A B!tch Know'
41.           Tooth Faeries 'Dust and Ashes' (At the End of Madness Version)
42.           Guti 'Hope'
43.           The Juan Maclean 'A Simple Design' (Deetron Remix)
44.           Tommy Bones 'Black Concept'
45.           King Britt presents Firefly featuring Ursula Rucker 'Supernatural' (Original Mix)
46.           The Black 80s 'Give Me Something' (Overnite Mix)
47.           Sir James 'Special' (Club Mix)
48.           K.C.Y.C. '4 D.D. (For Devotion)' (Smoothie Harden Mix)
49.           Tonja Dantzler 'In And Out Of My Life' (Armand Van Helden Mix - Shan & Gerd Janson Edit)
50.           George Morel 'You Know What I Mean'