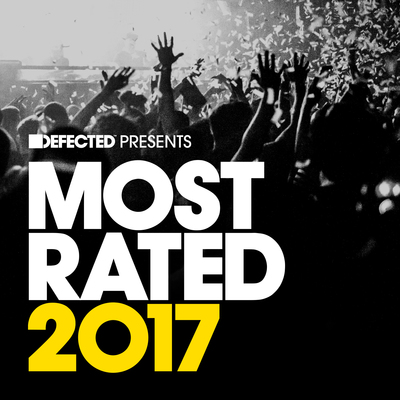 House music has enjoyed a big year, and 2017 looks set to continue to provide yet more top additions to the genre. 'Defected Presents Most Rated 2017' celebrates the wealth and variety of house created, played and enjoyed on dancefloors worldwide, showcasing the records doing the business in clubs right now, previewing the hits of the year ahead, and reflecting on the big tracks from the past 12 months that are possibly destined to become tomorrow's classics.
Most Rated is the series that consolidates the DJ essentials and biggest records of the moment and the future, presenting them in a package of full length, unedited, unmixed tracks. With tracks and remixes from possibly some of the biggest artists in house music, including Disclosure, offaiah, Claptone, Kölsch, Bicep and Paul Woolford featuring alongside Defected friends and family Sonny Fodera, Duke Dumont, Sam Divine – plus the imprint's 500th single release from Dennis Ferrer – the album could possibly be a collection for any DJ, from bedroom first starters to globetrotting A-list superstars.
It's out 2 December 2016.
© justaweemusicblog.com
CD TRACKLIST – DOWNLOAD INCLUDES 3 BONUS MIXES
CD1
01. Dennis Ferrer featuring Sagine 'Bubbletop' (DF's Bubble Wrapped Mix)
02. Disclosure 'BOSS'
03. Sonny Fodera featuring Janai 'You & I' (Extended Mix)
04. Kölsch 'Grey'
05. Marquis Hawkes featuring Jocelyn Brown 'I'm So Glad' (Paul Woolford Remix)
06. Sam Divine & Curtis Gabriel featuring Nat Conway 'Confessions'
07. Chris Lorenzo featuring Alex Mills 'Sleep Talk'
08. Raumakustik 'Dem A Pree' (Patrick Topping Remix)
09. Mat.Joe 'Weego'
10. Kollektiv Turmstrasse 'Sorry I Am Late' (Richy Ahmed Remix)
11. Alaia & Gallo featuring Kevin Haden 'Who Is He?' (Claptone Remix)
12. Full Intention 'Keep Pushing'
CD2
01. offaiah 'Trouble' (Club Mix)            
02. Duke Dumont 'Be Here'
03. Ultra Nate vs Roland Clark 'The First Time Free' (Claptone Remix)
04. Mighty Dub Katz 'Just Another Groove' (Boris Dlugosch Remix)
05. Anabel Englund 'London Headache'
06. Convertion 'Let's Do It' (Krystal Klear NY Mix)
07. Sandy Rivera & David Penn featuring LZ Hall 'Listen Again'
08. Blaze 'Lovelee Dae' (Bicep Remix)
09. Red Rack'em 'Wonky Bassline Disco Banger'
10. Eli Escobar 'I Need U'
11. Black Motion featuring Xoli M 'Rainbow'
12. Raf Rundell 'Right Time'
CD3
01. Crookers featuring Mike City 'Get My Mind Right'
02. Solardo 'Tribesmen'
03. Emanuel Satie vs Roberto Rodriguez featuring Max C 'Ride Your Body' (Sabb Afterdark Mix)
04. Harry Romero featuring Robert Owens 'Back' (Kölsch Extended Remix)
05. Kiddy Smile 'Let A B!tch Know'
06. Lee Walker vs DJ Deeon 'Freak Like Me' (Sonny Fodera Remix)
07. Marlin 'Urgent Power'
08. Charles Ramirez, Luca M & JUST2 'Up & Down'
09. Soul Of Hex 'The Clapper'
10. Whitesquare 'Delysid'
11. Floorplan 'The Heavens & The Earth'