Through RVCA's Artist Network Program (ANP), Steve Aoki and PM Tenore recently announced their merge of music and fashion together with the Dim Mak x RVCA 20th Anniversary Collaboration. The collection is a microcosm of each brand's impact on both industries. The collection arrives in the midst of Dim Mak's 20th Anniversary. Steve Aoki's record label has spent 2016 on a world tour, playing to audiences in Barcelona, Chicago, Ibiza, Malta, Mexico City, Montréal, New York City, and other global hotspots. 

With a stop at Amsterdam's ADE convention in the can, the Dim Mak x RVCA collaboration strives to integrate the diverse network of different subcultures with one common thread: the balance of opposites.
Steve Aoki: "I've known Pat Tenore for over 23 years, since I started going to his skate shop when I was 15 years old. In 2006, Pat and RVCA gave me my first fashion collaboration - a custom Steve Aoki bag. Since then I've had the pleasure of creating alongside Adidas, Burton, Diesel, and Supra to name a few, but nothing feels better than working with a close friend. Pat's been there since Day 1 and has always believed in me. This 20th Anniversary is a special time for both myself and for Dim Mak, and I can't think of a better person and brand to collaborate with on our capsule collection."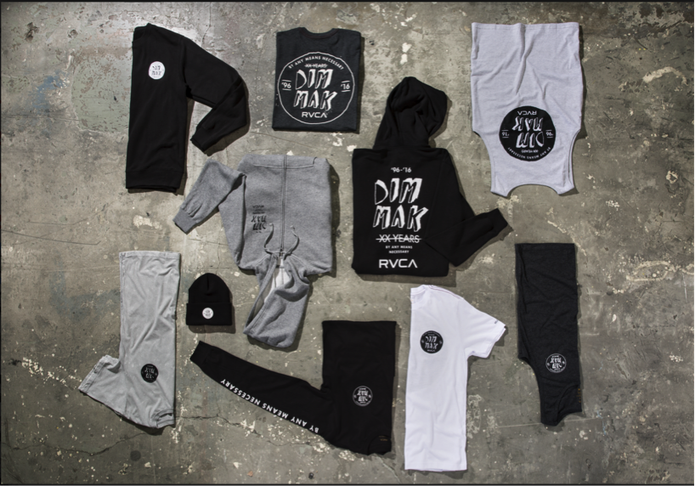 Having grown up in the same Orange County area, founders Aoki and Tenore are cut from the same cloth. They connected during the punk rock era, both using skate culture as an early vehicle for inspiration. They started their ventures from the ground up, instilling similar core values and DIY attitudes that still stand today. Those values are apparently manifested today in RVCA's Artist Network Program, which "aims to showcase the talent of accomplished as well as unknown artists who inspire our generation and push the boundaries of creativity."
RVCA is the brainchild of company Founder and President, PM Tenore and is a design-driven lifestyle brand. Tenore's intention from the very beginning has been to create a platform for RVCA, which combines art, music, fashion and a modern lifestyle in an original way. At the forefront of this vision has been RVCA's Artist Network Program (ANP)-a venture established to showcase the talents of accomplished as well as unknown artists. 
The Dim Mak 20th Anniversary collection can be purchased online at http://www.dimmak20th.com
© justaweemusicblog.com