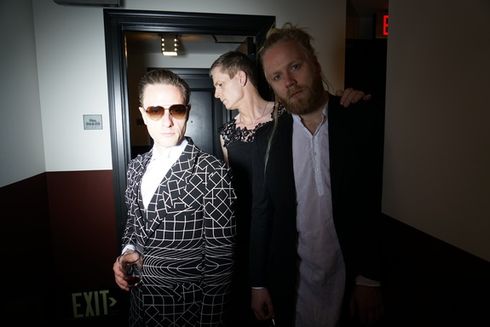 Starting today, GusGus, the electronic act from Iceland, are set to tour North America and Mexico on a 9-date run. A rotating cast of members and a career spanning just over 20 years, Biggi Veira and Daníel Ágúst will take GusGus all the way from New York to LA and many places in between. Having remixed acts such as Depeche Mode, Björk and Sigur Rós, GusGus are no strangers to innovative experimentation and have apparently repeatedly gained themselves critical acclaim by demonstrating a grasp of analog hardware. 
With an expertise in live electronic performance, combining haunting grooves, melodic obscurities and lush sweeping vocals, and with nine studio albums under their belt, including 2014's hit 'Mexico', fans can expect a range of brand new music, as the band will look to uphold their apparent reputation for 'breaking the boundaries of versatility within the ever-changing electronic scene.'
The Icelandic outfit will be performing live in New York, Montreal, Miami, Detroit, Chicago, Mexico City, Guadalajara, Tijuana and Los Angeles, giving ample opportunity for longstanding fans to see the band in action. Combining visuals with techno instrumentation and ethereal vocals, GusGus' live show should be something to look forward to in the electronic scene.
© justaweemusicblog.com
Tour Dates:
02/11 - HIGHLINE BALLROOM, NEW YORK - US
04/11 - FAIRMOUNT, MONTREAL - US
05/11 - BARDOT, MIAMI - US
08/11 - MAGIC BAG, DETROIT - US
09/11 - CHOP SHOP, CHICAGO - US
10/11 - FORO MASARYK, MEXICO CITY - MEXICO
12/11 - BMLS SHOW CENTER, GUADALAJARA - MEXICO
13/11 - ANFITEATRO DEL ICBC, TIJUANA - MEXICO
14/11 - EL REY, LOS ANGELES - US