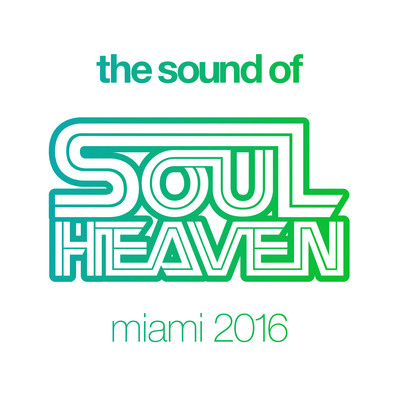 The 'Sound of Soul Heaven Miami' is back for 2016, putting together some of best new soulful and vocal house cuts from Tim Deluxe, Tommy Bones, Gershon Jackson and Fred Everything plus plenty of essential classic tracks from Dennis Ferrer, Karizma, Guti and Osunlade to bring back those nostalgic soulful moments. Founded by Oli White and Master At Work Louie Vega, for 15 years now Soul Heaven has been one of those labels responsible for keeping the soulful side of house music alive and kicking. 
Synonymous with the biggest names in the business; 'Little' Louie Vega, Kenny Dope, Masters At Work, Frankie Knuckles, Dennis Ferrer, Jocelyn Brown, Osunlade and more, the Soul Heaven crew have hosted parties in the US, South Africa, China, Thailand and Korea and throughout Europe, bringing soulful house to the world.
Representing at the modern end of the spectrum on 'The Sound of Soul Heaven Miami 2016' are artists like Grey Area, the duo from the Netherlands mixing disco, funk, soul and jazz fusion in 'Lose My Cool' and 'Afrodisiac'. Taken from the recent EP, Rhodes's mix of Tim Deluxe's 'JAS' and Tommy Bones's 'T's Jazzy Joint' (from the forthcoming 'Arrival EP') are both funky melodic tracks, emblematic of soulful house in 2016.
Standout new vocal tracks include Fusion Groove Orchestra's 'If Only I Could' featuring the soulful voice of Steve Lucas and the gorgeous 'Kai KZR Alcé Late Night Mix' of The DangerFeel Newbies 'What Am I Here For?' Meanwhile, the Eli Escobar remix of Gershon Jackson's 'Take It Easy' which has been making waves on the dancefloor since the beginning of 2016, picks up the tempo with its infectious soul clap.
There were certain timeless tracks that also made the cut. Osunlade's 'Envision' for example, takes pride of place in its 'Yoruba Soul Mix' version. Other classic highlights include Dennis Ferrer's 'Underground Is My Home' and the euphoric 'Given Me Joy' from Marc Evans - both tracks that epitomise the Miami sound.
The compilation pieces together everything there is to love about soulful house in three mixes.

It's out 11 March on Soul Heaven.
© justaweemusicblog.com
Tracklist:
Mix 1 Tracklist: -
01. Konstantin Sibold 'Dome'
02. Grey Area 'Lose My Cool'
03. Heston 'Resign 2 U' (Reel People Vocal Mix)
04. Kings Of Tomorrow featuring April 'It's Only You' (Sandy Rivera's Original Mix)
05. Gershon Jackson 'Take It Easy' (Eli Escobar Remix)
06. The DangerFeel Newbies 'What Am I Here For?' (Kai KZR Alcé Late Night Mix)
07. Fusion Groove Orchestra featuring Steve Lucas 'If Only I Could' (Liem Remix)
08. Copyright featuring Imaani 'Time' (Jon Cutler Distant Music Remix)
09. Joss Moog 'Smith'
10. Tim Deluxe 'JAS' (Rhodes Mix)
11. Tommy Bones 'T's Jazzy Joint'
12. Black Magic 'Dance (Do That Thing)' (MAW Mix)
13. Rhemi featuring Hanlei 'Diamond'
Mix 2 Tracklist: -
01. Fred Everything featuring Jinadu 'Searching'
02. Tony Momrelle 'Pick Me Up' (Reel People Vocal Mix)
03. Dele Sosimi Afrobeat Orchestra 'Too Much Information' (Laolu Remix (Edit))
04. Pino Arduini & Javier Bollag 'Los Pueblos' (Pablo Fierro Remix)
05. Osunlade 'Envision' (Yoruba Soul Mix)
06. Grey Area 'Afrodisiac'
07. Kings Of Tomorrow featuring April 'Take Me Back' (Atjazz Afrotech Remix)
08. Stones & Bones featuring Marissa Guzman 'Light A Spark' (Manoo Remix)
09. Adesse Versions 'Thank U'
10. Soul Vision 'Don't Stop' (Remix)
11. Iban Montoro & Jazzman Wax 'Chicago'
12. Purple Disco Machine & Boris Dlugosch 'L.O.V.E.'
13. DJ W!ld 'I Love You More'
Mix 3 Tracklist: -
01. Amira 'My Desire' (Blaze's Klubhead Vocal)
02. Marc Evans 'Given Me Joy' (Muthafunkaz 12" Mix)
03. Quentin Harris featuring Margaret Grace 'My Joy' (Original)
04. Soul Central featuring Billie 'In-Ten-City' (Vocal Mix)
05. Kings Of Tomorrow 'Another Day' (Original Mix)
06. Hardrive: 2000 featuring Pierre Salandy 'Living In The Future'
07. Paolo Rocco 'Move Body, Move Forward'
08. Dennis Ferrer featuring Tyrone Ellis 'Underground Is My Home'
09. Guti & Luca Bacchetti 'Finale'
10. Chez Damier 'Can You Feel It' (Steve Bug Re-Dub)
11. Fonda Rae 'Living In Ecstasy' (The Groove Mix)
12. Wallflower 'Say You Won't Ever' (Larry Heard Club Mix)
13. Karizma featuring DJ Spen '4 The Love' (Kaytronik 2011 Remix)
14. Karizma 'Neke's Theme' + Nick Curly 'Between' (Accapella)