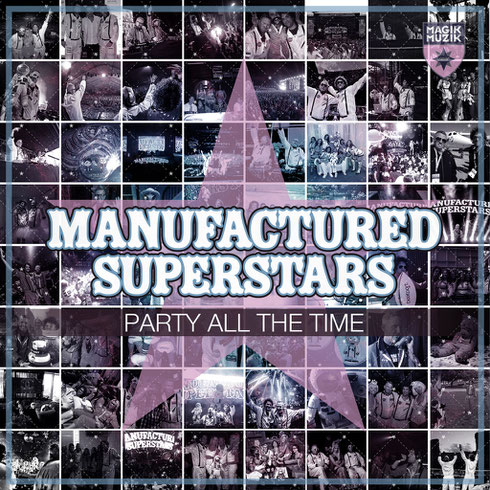 Possibly one of dance music's most multifaceted duos Manufactured Superstars will unveil their debut full length album 'Party All The Time' on 4 December via Black Hole Recordings. The 16-track selection includes previously-released tracks like 'Magnetic' off their #1 EP on iTunes Dance, 'Like Satellites' which topped Billboard's Dance chart for 20+ weeks and a disco version of 'Take Me Over'. 
The LP also contains a host of new tunes such as 'Great Escape (featuring Danni Rouge)', 'Lift Off (feat. Fingazz)', 'Carry You Home (feat. Iossa)', 'Party All The Time (feat. Megan Perry)', and their latest collaboration 'Let Me Be Your Fantasy' with Natalie Peris and Inpetto which covers the famous '90s record by Baby D.
The duo has spent two years perfecting their debut LP, splitting their time between producing and touring with an average of 150 tour dates per year. 'Party All The Time' is defined by its saccharine synth-work and emotive vocals, displaying their house-driven wheelhouse and dedication to their core philosophy of apparently having as much fun as possible with their music.
The pair is known for their signature NASA spacesuit costumes and spinning uptempo sets that undulate spontaneously, often times doling out upwards of 100 tracks in the span of a two-hour performance. The duo have also taken centre stage at festivals the world over including Ultra Music Festival, Electric Daisy Carnival and Global Dance Festival to name a few.
Outside of their music-making career, they are shrewd businessmen. Bradley Roulier and Shawn Sabo were integral in founding online music distribution network Beatport back in 2004 as an alternative to iTunes that specialised in electronic music and culture, and in 2013 sold their shares to SFX. Bradley is also the owner of Denver's Beta Nightclub which was named the #1 club in America by Rolling Stone in 2013.
© justaweemusicblog.com