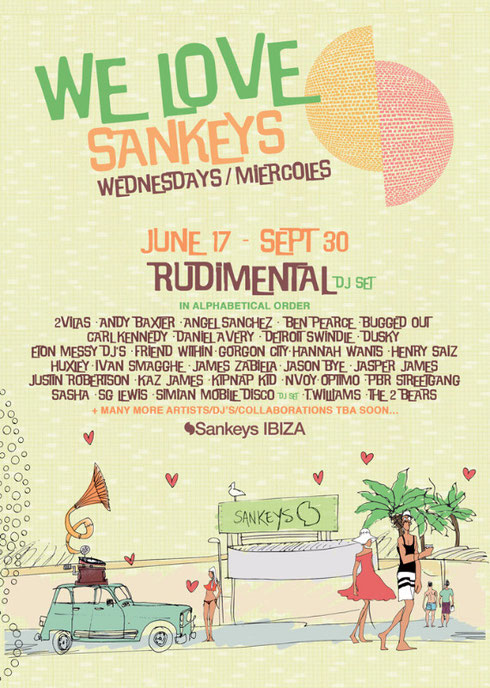 We Love, the Ibiza institution started by Darren Hughes recently announced it will be taking over each Wednesday at Sankeys Ibiza for a 16 week run from 17 June through to 30 September. Moving on after 17 years at former home Space, a re-imagined, boutique We love… will be bringing a diverse range of selectors and aims to demonstrate why it is possibly the pinnacle of clubbing on the island. Now after announcing their opening party on 17 June, the night will be pairing the chart topping Black Butter Records artists Rudimental, bringing with them their D&B influenced sounds. Joining the line up from the Black Butter Records crew is Kidnap Kid. Alongside will be Nvoy, also of the Black Butter Records family, known for their low slung, R&B infused house. Headlining the basement for the opening night will be The 2 Bears. Adding to the line up is fellow London DJ/producer T.Williams. Rounding out the line up is Kaz James, who has balanced chart success with a love of underground club music. Jason Bye, a We Love stalwart will be filling the resident slot.
Across the 16 week run We Love will be bringing to the island, UK and Fabric associate Daniel Avery, Dutch house duo Detroit Swindle and the UK's Dusky. Friend Within, hotly tipped for greatness by the likes of Annie Mac, join Gorgon City and Huxley. Ivan Smagghe adds his Parisian flair to the booth and relative newcomer Jasper James, adding fresh impetus to the island, join long standing We Love affiliate Justin Robertson on the schedule. 
Scottish selector Optimo bookends an age gap to youngster SG Lewis, Theo Kottis of Moda Black/Get Physical fame sound contrasts with Zac Samuel's take on club music. The brand also partners with club brand Bugged Out and relative new comers to the scene Eton Messy.
Its new inception sees Darren Hughes brings the original acid house ideals from We Love and inputs a unique, boutique version into Sankeys. He's working together once again with Danny Whittle, who Darren originally started running events with in Ibiza and David Vincent.
Darren Hughes: "To answer why I have decided to leave Space is like asking me why I decided to leave my family home at 17, or why I decided to approach James Barton to start Cream in 1992, or why I left Cream in 1998, or start Home at Space / We Love Space in 1999, the answer is the same, it felt like it had come to the point of change, to leave or to start, it is the same.
"What We Love was at Space was a 17 year journey, one that is now behind me, however, what is in front of me is what We Love Sankeys will be, made by the people who will produce it, with myself, the people closest to the project, the artists who will play, and the people who will come to the events, this has no number attached to it, We Love will not be trying to reproduce what it was for 1, 2,3, or 10,000 people, it is a new beginning, and that is the key to what will follow. Lets find out what will be, together."
© justaweemusicblog.com
Related: http://www.justaweemusicblog.com/2015/04/08/we-love/