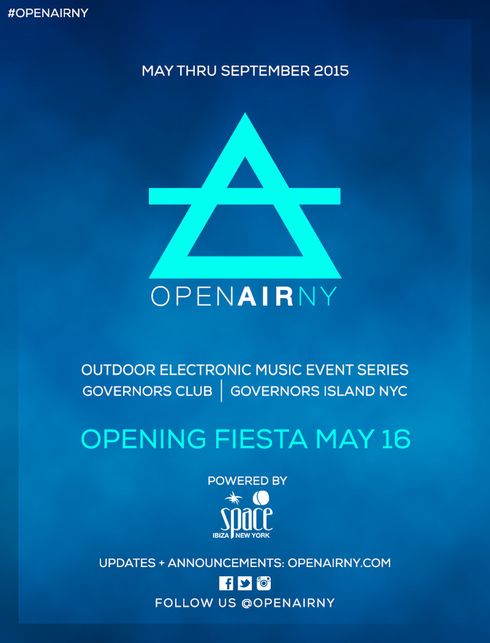 After a freezing cold winter, NYC is finally heating up. This summer, it's just a quick ferry ride away from the steamy concrete jungle into the big city's own island dance music oasis - 'Open Air NY.' TC Events & Promotions LLC, the team behind programming/producing Time Warp New York this past November, will be partnering with The Lure Group, a full service hospitality company behind the brands Slate and Clinton Hall, to exclusively produce the 'Open Air NY' outdoor electronic music event series at The Lure Group's Governors Club on Governors Island NYC.

The inaugural season will start in May and run through the end of September with all marketing for 'Open Air NY' powered by Space Ibiza New York and operated by the Lure Group.

Fans who have visited Governors Club in previous years should be pleased with all the enhancements that have been made especially for 'Open Air NY.'  These enhancements include:

- A reconfigured layout allowing for a better viewing experience for guests and expanded VIP area
- Improved sound and lighting systems
- All new area for food vendors with a great variety of options for guests
- 80-foot long main bar with expansion into the tent
"New York is the greatest city in the world and with 'Open Air NY' we have the opportunity to present the best dance music artists in the world under a phenomenal backdrop. With all the upgrades we've made this year, this event series is going to be NYC's own dance music island oasis." - Rob Toma, TC Events & Promotions LLC and Space Ibiza NY 
"We're excited to partner with TC Events & Promotions to create an unprecedented music program this summer at Governor's Club. 'Open Air NY' will attract dance music enthusiasts from all over the world and unite under one roof to enjoy a lineup of unparalleled talent." - Telly Hatzigeorgiou, founder of The Lure Group and Governor's Club.
For more information, check: www.OpenAirNY.com