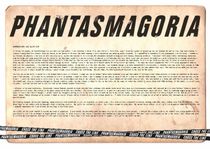 Mike & Claire Manumission return to Ibiza with Lynne Ramsay, Seth Troxler, Howard Marks, Skin, Samantha Morton all curating evenings throughout August as part of Phantasmagoria. Evening events will also see some of the world's best classically trained dancers as well as a performance on the terrace from the London Electronic Orchestra, with Ivan Smagghe, Derrick Carter, Matthew Herber and Skream all leading the music every Friday at Booom! Ibiza.  
Summoned by the Dreamcatcher, Mike & Claire Manumission are put on trial by Time Lords for "the crime of what they did not do". They are given one chance to find the Missing Spirit of Phantasmagoria, change the course of history and free the land from the corporate clutches threatening to asphyxiate it. 

In a world devoid of culture, cinephile citizens congregate illegally in an underground future blues club called Sexus to indulge in the forbidden fruits of a time gone by. The lines between fantasy and reality blur as our heroes go deep undercover and become part of the moving pictures the citizenry so admire, risking being obliterated by the shadowy characters with whom they share the silver screen or worse still caught in the gaze of the unforgiving corporate watchmen.
Beneath chiaroscuro lighting a real life film noir thriller is played out to a sultry soundtrack, interpreted by highly respected DJs and producers including the Craig Richards in residency with guest stars Derrick Carter, Matthew Herbert, Ivan Smagghe and Skream, with unannounced special guests appearing throughout. Music programming is by Derren Smart of London Electronic.
The celebration will culminate every Friday night in August only, when Phantasmagoria will be played out live over eight hours. Booom will be transformed, with the noirish setting of smoke and low-key lighting into a sleazy futuristic blues club. Cinephile customers will come together to relish in their favourite film director's work in a totally immersive audio/visual sensory experience.
© justaweemusicblog.com