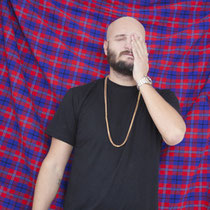 Francesco 'Phra' Barbaglia, AKA Crookers' 'Able To Maximize' remix package is out now via Ciao Records. The set includes 'Dirty Dutch' producer Chuckie, house duo Franskild, UK bass stars MAO, English garage/bass newcomer Suck Fake and fellow Italian and label mate Digi G'alessio.
'Able to Maximize' is a reflection of where Phra is with his sound at the moment. Fully immersing himself with his song writing he has experimented with different effects and approaches until he found the sound he was looking for.
"The idea for the track came about one night when Dilligas and I were hanging out at home. We were in the studio playing out old dub records and discovered this little mad MIDI file." He goes on to add, "I lifted the drum sounds and distorted the hell out of it, adding my own little signature." Crookers then began featuring the track in his new live sets. "It always puts a smile on people's faces. It's probably a good thing because as my grandma used to say, it's impossible to see an ugly face if it's smiling."
Phra's previous singles, 'Ghetto Guetta' and 'Heavy' went back to the old school formula that gave Crookers his sound and gained thousands of plays on Soundcloud. The recent remix competition in conjunction with Sennheiser and Soundcloud for the single gained 300 entries with the winner to be selected by the man himself.
Crookers remix of Kid Cudi's 'Day 'N Nite' reached #2 on the UK sales chart and Crookers' debut album, 'Tons Of Friends' featured an all-star lineup that included Miike Snow, Pitbull and Major Lazer.
Phra has already begun work on his next album planned for release later this year. Check it out below.
© justaweemusicblog.com