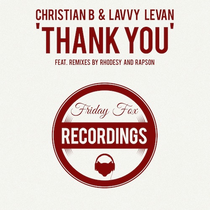 Christian B & Lavvy Levan continue to gather momentum with their homegrown Friday Fox Recordings label. Ready to possibly raise hands on the terraces of summer 2014, the duo deliver a heartfelt message dedicated to the greats of the house music scene with 'Thank You'. Drizzled with bubbling '90s vibes, this deep house groove with soulful keys sees Lavvy give thanks with a special spoken word before the piano breakdown arrives.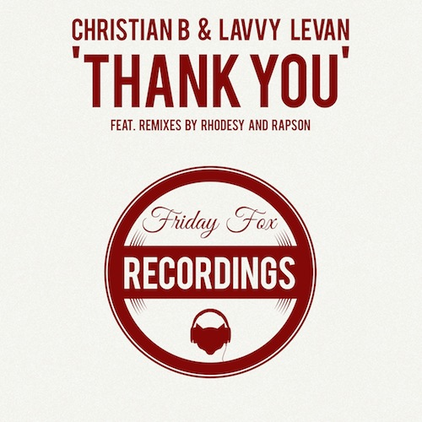 Paul Rhodes takes it to the club, injecting driving percussion, piano stabs and a bassline on his re-interpretation. Also on the release, 'So Special' is an honest declaration of how love really does save the day! Marc Rapson joins team Friday Fox again on remix duty, delivering a deep bumping bass groover!
"We had started recording 'Thank You' as a way to say thanks to the greats of house music – those that have inspired us throughout the years. The spirit of house steered us through some tricky times and provided the soundtrack to some of our most memorable moments. We had actually laid down the foundations for the track when we heard the tragic news about Frankie Knuckles passing – we then knew exactly where we had to take the track – and it just fell out of us, almost like it was meant to be! it's an honour  for us to use our music as a way to say thanks to those who helped shape and influence us through their music."  Christian B & Lavvy Levan
The 'Thank You' EP is out 23 June on Friday Fox Recordings.
© justaweemusicblog.com