Ibiza Rocks House at Pikes and Pacha Ibiza recently announced a weekly residency to bring the 'daddy of all 'House' parties to the daddy of all clubs' on Monday nights. For 20 weeks, Ibiza Rocks House will be at Pacha Ibiza from 26 May to 6 October, where the club will transform and the performers will tempt, tease and delight as the heavy breath of hedonism fills the air.

From arriving on the inspiring island of Ibiza 20 years ago, Andy McKay and wife Dawn Hindle made up one half of the incredibly successful team behind Manumission, creating large-scale parties that were amongst the most attended, most hedonistic and most talked about in the world.  Challenging the status quo to reflect the festival generation and the shift in the music landscape, Andy and Dawn launched the dominant youth lifestyle brand Ibiza Rocks in 2005.  In 2011, they took over iconic Ibizan institution Pikes – the hotel of choice for the rock 'n' roll elite of the 1980s. Guests including Freddie Mercury, Grace Jones, Julio Iglesias and Naomi Campbell would stay at Pikes and party at Pacha.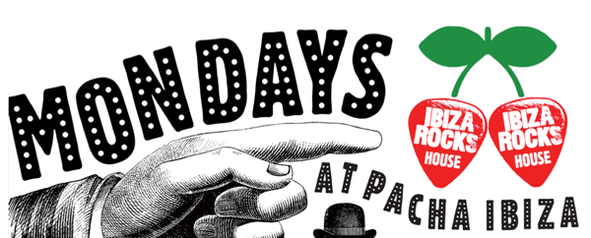 Andy McKay, CEO, Ibiza Rocks Group said: "This has been a long time coming and we're delighted to be working with Pacha and the Urgell family. It's the coming together of two families who have known, admired and respected each other for 20 years and wanted to work together for 20 years!  Both sides are incredibly invested in and incredibly passionate about Ibiza and its future. The parties will continue to revolve around amazing guests, friends, family, artists and residents that reflect the real Ibiza.'
Francisco Ferrer, General Manager, Pacha said:"We've been waiting a long time to unite with Andy and Dawn and the desire to work together has grown stronger since we've witnessed the spirit, energy and authenticity of the parties they host at Ibiza Rocks House. They fit perfectly into Pacha, our ethos and our history. Two brands entwined and two families with a deep love of this incredible island united."
Pacha's Funky Room will be renamed 'Freddie's' after the private disco at Ibiza Rocks House, with original Manumission resident Griff and Ibiza's Antz at the helm. The main room will feature DJs such as Derrick Carter, Kenny Dope, Kevin Saunderson and DJ Pierre, alongside the best of the new breed of DJs and producers including Shadow Child, Claptone, Jesse Rose, The Magician and Jaymo & Andy George. Long standing Rocks resident Doorly will drive the nu skool element, whilst Basement Jaxx will bring the full carnival vibe and honorary members of the wider Rocks family 2manydjs and Groove Armada will appear with multiple shows.
© justaweemusicblog.com