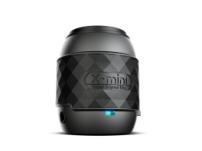 Singapore-based, sound innovation company, Xmi Pte Ltd, has launched a range of thumb-sized speakers designed specifically for smartphones and tablets. The X-mini ME and X-mini WE redefine the idea of pocket-size portability and, with a decent sound performance, aim to deliver the X-mini promise of Sound Beyond Size. Both models are perfect partners for smartphones and tablets, letting you take high quality sound with you, wherever you go.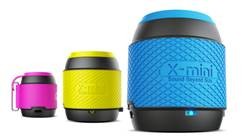 The X-mini WE features Bluetooth connectivity to play tracks wirelessly, as well as the ability to Bluetooth-enable any other connected audio device! It also has the latest NFC connectivity, allowing users to simply tap to pair! The X-mini WE comes in a cool Gunmetal Grey, with more colours to follow, and retails at £29.99 while the wired version, the X-mini ME is available now in a fashionable selection of Gunmetal Grey, Yellow, Pink and Blue, and retails at £19.99.
Xmi Pte Ltd's original X-mini Capsule Speaker range possibly set the benchmark for portable sound quality and is sold in over 80 territories worldwide. The X-mini ME and WE represent an evolution of the X-mini range, and will once again bring a fresh new perspective to the way people think of portable sound.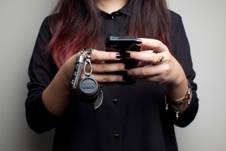 The X-mini ME measures just 44mm in height and weighs only 44gm, with the X-mini WE at 48mm and 48gm respectively. When you need to pump out the sounds, the magnetically shielded, 31 mm drivers, deliver a performance, well beyond the expectations for a speaker of its stature. With just a 1.5 hour charge via micro-usb, giving a playback time of up to 6 hours. Both models come with a carry strap, and a cable with USB, micro-usb and 3.5mm jack connectors.
The X-mini WE features the popular 'Buddy-Jack' which allows you to connect multiple speakers together for an even bigger sound. The Buddy-Jack is also what turns the X-mini WE into a Bluetooth dongle.  Just connect it via 3.5mm jack to any audio system whether it's an old stereo or a pair of headphones and then transmit your music wirelessly.
Mr Ryan Lee, founder of Xmi Pte Ltd said:
"We wanted to further challenge ourselves and competitors by revisiting our philosophy of Sound Beyond Size. This time we looked at shaking things up by making the speakers even smaller, yet retaining the sound quality expected of an X-mini product. However, this is not just a sound accessory; this is a fashion accessory, a lifestyle accessory, and more than that, this is a movement to encourage people to bring good quality sound everywhere they go."
© justaweemusicblog.com