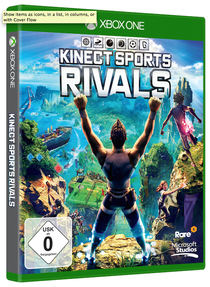 Kinect Sports Rivals, which is currently available in North America, Australia and New Zealand, will be available in Europe this Friday 11 April, exclusively on Xbox One. Whether fans are looking to tackle the new sports – climbing, wake racing and target shooting – or experience the re-imagined favourites – soccer, tennis and bowling – the Xbox One and the new Kinect aims to deliver next-gen motion sports gameplay like never before.
Kinect Sports Rivals has been built entirely from the ground up and is the first title to take full advantage of all the new Xbox One capabilities, including the new Kinect sensor and Xbox Live, and is beautifully rendered 1080p HD. For the first time in motion-based games, subtle movements and timing are tracked with precision. Additionally, players have an all new way to get in the game with Champions, a stylised on-screen version of themselves that participates in each of the challenges and continues to compete with friends, even if the player isn't there.
Xbox also launched the Kinect Sports Rivals World Championship, the first ever global motion-sports competition which will challenge players from around the world who have honed their gameplay skills and award the grand prize winner with $10,000 in cash and a trip to one of four destinations: a water sports adventure in Bora Bora, walking the Great Wall of China, trekking to Machu Picchu, or skiing the Swiss Alps.
Additional prizes include:
·         2nd Place:  USD $5,000
·         3rd Place:  USD $2,500
·         4th Place:  USD $1,000
·         5th – 11th Place:  USD $500 each
It will culminate with a live, in-person final championship this July at the San Diego Comic-Con, where top finalists from each participating country will battle for their country's glory and the grand prize.
© justaweemusicblog.com