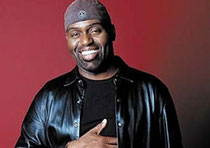 Sad to hear this morning that 'Godfather of House Music', Frankie Knuckles, has died aged 59. Although born in NYC, Frankie had closer links with Chicago, where he moved to and was instrumental in the birth and development of house music in the 1980s.
Long before the days of the American market embracing the more commercial EDM sound, DJ/producers such as Knuckles became huge across the European circuit as house music developed in the late '80s and '90s, although in their own country the music and their profiles remained very much on the underground tip.
He was probably not aware of just how popular he was, and news of his death became trending worldwide on Twitter and many other social media platforms. Long-time close friend and fellow DJ/producer, David Morales tweeted: "I am devastated to write that my dear friend Frankie Knuckles has passed away today. Can't write anymore than this at the moment. I'm sorry."
BBC Radio 1 DJ, Pete Tong MBE tweeted: "R.I.P #GodfatherOfHouse Frankie Knuckles R.I.P gentleman genius groundbreaker inspiration blessed to have worked with you. Sad news."
His influence and popularity in his hometown of Chicago was far-reaching, with 25 August, 2004 declared Frankie Knuckles Day and endorsed by the then-senator, President Barack Obama!
With many great productions to his name, including 'The Whistle Song', Knuckles' most well-known track was 'Your Love', which was released in 1987. Dance music magazine Mixmag declared it the greatest house record ever made.
RIP Frankie Knuckles, another sad loss to the house music community.
© justaweemusicblog.com