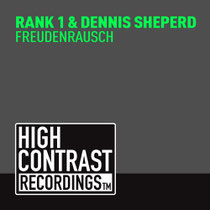 Last year Rank 1 released their 13-minute track '13.11.11' and their 'Elements Of Nature' bagged many credits, getting a MIXMAG Tune of the Month and landing the Dutch duo with a #5 position on Trancefix's Tracks of the 2013 rundown. 
For Germany's Dennis Sheperd, the remixes of his biggest tune to date 'Fallen Angel' dropped on High Contrast Recordings in 2013 garnering huge support, which followed the success of his debut mix-comp and artist album 'A Tribute To Life'. 
Now, closing up fast on their landmark 250th release, High Contrast has united them for one this track. 'Freude' equals 'joy', 'rausch' means 'noisy intoxication' and in the collective pursuit of club floor feelgood-ery, Piet, Benno & Dennis have created a new electronic music cocktail. Check it out below, it's out 17 March. 
© justaweemusicblog.com