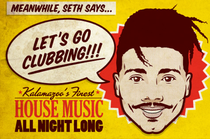 As the global EDM bubble inflates towards bursting point with many DJs seeming to be constantly chasing bigger stages, larger crowds and increasingly over-inflated fees, in 2014, Seth Troxler plans to do something completely different. Seth will be going back to his roots, playing regularly at clubbing institutions that he feels best represent everything that he stands for.
"With all hype surrounding EDM and many DJs just focusing mainly on festivals and larger events, I feel that dance music is losing touch with its roots," explains Seth. "While I love playing to thousands of people at festivals, nothing beats a smoke-filled room, interacting with a crowd that you regularly get to spend time with and a killer sound system that's purpose-built to fit the space."
The concept behind 'Seth Troxler Goes Clubbing' will see Seth commit to play regularly at those nightclubs that have been integral in moulding him into the DJ he is today.
Seth continues: "There is nothing that can replace the energy and intensity of a great club. Clubs provide that unique atmosphere where the DJ and crowd are able to connect on a very intimate level and really invest in each other, ideally over an extended period of time."
'Seth Troxler Goes Clubbing' involves the following clubs: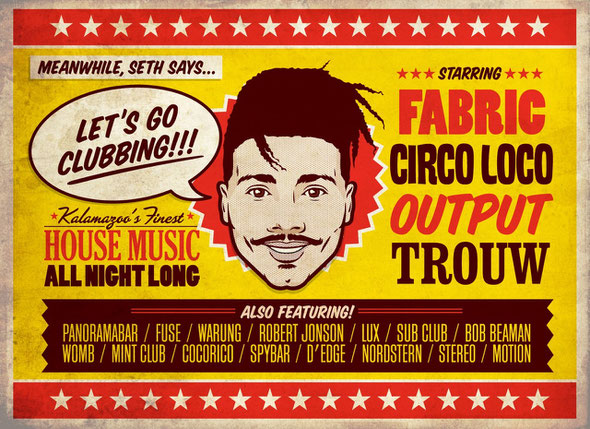 Circo Loco (Ibiza): Building on three previous summer residencies at Ibiza's best known underground club, Seth will be embarking on another ten date run of shows throughout summer 2014 starting in mid June and running through to the closing in October.
fabric (London): While the only people who can truly call themselves fabric 'residents' are Craig Richards and Terry Francis, Seth will headlining Room One once a quarter throughout 2014 starting on Saturday 15th February.
Trouw (Amsterdam): Seth will be undertaking a quarterly residency at Amsterdam's underground institution which will see him inviting some of his favorite DJs to play alongside him and also getting involved cooking and curating menus in the club's restaurant, starting on 21st February.
Output (New York): Another quarterly residency playing a mixture of all night shows and alongside hand-picked guests at New York's newest underground venue starting on the 22nd March.
He will also be playing multiple gigs throughout the year at other venues that have played a key part in supporting him over the years like Panoramabar (Berlin), Womb (Tokyo), Warung (Itaji), Lux (Lisbon), Fuse (Brussels), Robert Jonson (Offenbach), D'Edge (Sao Paulo), Sub Club (Glasgow), Bobbeaman (Munich), Spybar (Chicago), Coco Rico (Riccione), Stereo (Montreal), Mint Club (Leeds), Sound (LA) and Nordstern (Basel).
© justaweemusicblog.com