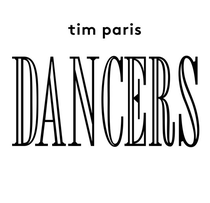 The My Favorite Robot label release their next full-length album from an artist that has been close to the label for some time. Tim Paris has had his own unique voice in the underground scene of his hometown in Paris for years, with labels like Items&Things, Kompakt, Pets Recordings and many others coming calling for his work.
Also part of It's A Fine Line with Ivan Smagghe and boss of the Marketing Music label, Paris has proved himself an adept producer of dancefloor tracks in the past (and a remixer, reworking artists including Silicone Soul, Tiga, and The xx) but for his debut LP, he takes it to a different level and crafts an album full of songs.
'Dancers' features plenty of collaborations with artists from an array of musical backgrounds, including Georg Levin, half of Wahoo with Dixon and a BBE and Sonar Kollektiv associate, Parallel Dance Ensemble's vocalist Coco Solid, Sex Judas – a mysterious but frequent collaborator with Tim, and Ben Shemie from fast rising Canadian band The Suuns as well as Forrest. Together they have crafted a standout album that joins the dots between indie dance, post punk, electro and house music. 
Opener 'Golden ratio' sets the tone for the album with plenty of raw guitar licks and live sounding drums. Levin's vocals help the track to soar out of its rugged indie framework before 'Rain' ups the ante once more with some tobacco stained New Wave influences, dubby pads and and kinetic drum work. 'Outback, Stones And Vinyl' then sets a more downtempo mood helping to ensure there is a coherent narrative throughout. Plenty of analogue machines and real instruments help colour in the slowed track and the result is a slow and mutant indie licked Italo track with a very real hedonistic spirit. Elsewhere tracks like 'Minreich' sound like modern Kraut reworks, whilst 'Extreme Nails' is a more peak time and progressive number that twists and turns for its duration.
© justaweemusicblog.com