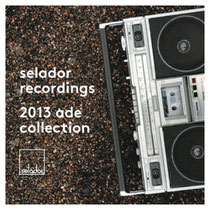 Both of Selador records' central tenets Dave Seaman and Steve Parry have been frequently involved with the ADE conference since its inception, so it was only natural that they would present the label there this year. This recently released ADE sample is the fruit of that representation and is a collection of tracks of forward thinking electronic music that outlines their signature sound.
Former incumbents of the label's releases are welcomed back with Piemont, Han Haak and Danito & Agent! following on from their previous contributions. While new talent comes in the shape of established heavy hitters like Chris Fortier and Robert Babicz alongside new blood such as Kucna Muzika and Vrong.
In total the EP has 11 tracks, ranging from the house grooves of G-Pal's 'Veenza' to the electronic techno of 'Cuba' from XY-Me. Elsewhere Rob Hes & Steve Slight combine on the percussion heavy 'Shoot', whilst the tribal lunacy of 'Gimme Sum' from Vrong is possibly the closest thing to a carnival encapsulated in electronic music.
The label was an integral force in Dave Seaman's successful attempt to create the world's first ever crowd funded mix compilation CD, the final copies of which have now been distributed to the history making participating pledgers.
© justaweemusicblog.com