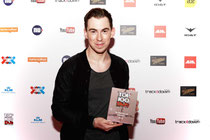 The DJ Mag Top 100 DJs Poll recently announced its new winner as Dutch DJ/producer, Hardwell, who replaces five-times winner Armin Van Buuren. Hardwell has been crowned the world's No.1 DJ for the first time, making him the youngest ever winner at only 25 years of age. Hardwell received the award at the DJ Mag Top 100 DJs Poll Awards party presented by legendary producer, Giorgio Moroder, held for the third consecutive year during the Amsterdam Dance Event (ADE). The show took place at Amsterdam's RAI venue as part of the Amsterdam Music Festival, an initiative of ALDA events and ID&T.
After receiving the award in front of a capacity crowd at Amsterdam's RAI venue, Hardwell played a DJ set before flying to London for the UK edition of the DJ Mag Top 100 DJs Poll party at Electric Brixton, held in association with Ministry of Sound. There he joined a line-up featuring Dimitri Vegas & Like Mike, Quentin Mosimann and Bob Sinclar.
Released tomorrow, Ministry of Sound and DJ Mag have joined forces for the second consecutive year with a 3 CD album release including a selection of the Top 100 of 2013 across CD 1 & 2 and a special edition bonus CD of the best voted DJ's from the past 20 years. The 3 CD package includes all of 2013's Top 10 and all past Top 100 winners.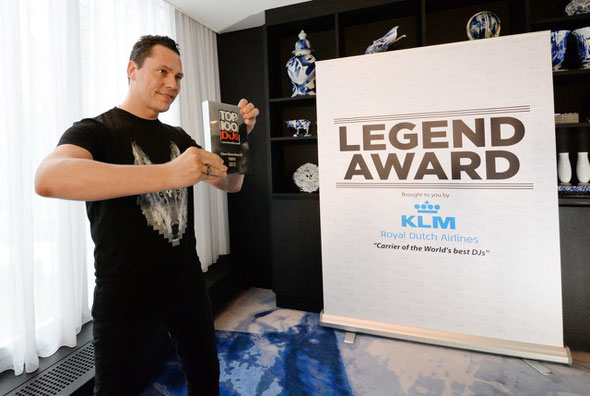 In the Poll's 20th year, the Dutch DJ, Tiësto, has been awarded the inaugural Top 100 DJs Legend Award by KLM. KLM recognises that Dutch DJs including Armin van Buuren, Tiësto, Hardwell, Nicky Romero, Sunnery James and Ryan Marciano, plus promoters like ID&T and labels like Armada, have flown around the world multiple times as part of the electronic music scene. As a big supporter of the Dutch spirit and a carrier of 'Dutch pride', presenting a historical award like this was a natural fit to KLM, particularly as the awards are in the company's hometown and that 2013 is the 25th anniversary of the Dutch dance music industry. Watch the highlights of the award ceremony at the Amsterdam Music Festival on klm.com/music
© justaweemusicblog.com
DJ MAG TOP 100 DJS POLL 2013

  1     UP 5   HARDWELL - WINNER
  2     DOWN -1   ARMIN VAN BUUREN - HIGHEST TRANCE DJ   
  3     NONE   AVICII - HIGHEST PROGRESSIVE DJ   
  4     DOWN -2   TIESTO  - HIGHEST ELECTRO DJ  + KLM DJ LEGEND AWARD WINNER
  5     DOWN -1   DAVID GUETTA   
  6     UP 32   DIMITRI VEGAS & LIKE MIKE - HIGHEST DJ GROUP   
  7     UP 10   NICKY ROMERO      
  8     UP 7   STEVE AOKI        
  9     NONE   AFROJACK  
  10   DOWN -3   DASH BERLIN
  11   DOWN -1   SKRILLEX
  12   DOWN -7   DEADMAU5 - HIGHEST LIVE ACT   
  13   UP 7   ALESSO
  14   UP 11   W & W
  15   UP 16   CALVIN HARRIS
  16   UP 30   NERVO    
  17   DOWN -9   ABOVE & BEYOND   
  18   UP 16   SEBASTIAN INGROSSO     
  19   UP 4   AXWELL     
  20   DOWN -1   ALY & FILA
  21   DOWN -8   MARKUS SCHULZ     
  22   UP 22   DAFT PUNK
  23   DOWN -12   HEADHUNTERZ - HIGHEST HARDSTYLE DJ   
  24   UP 27   ZEDD      
  25   UP 8   KNIFE PARTY    
  26   DOWN -14   SWEDISH HOUSE MAFIA      
  27   RE-ENTRY   SHOWTEK  
  28   UP 49   ANDREW RAYEL -  HIGHEST CLIMBER   
  29   DOWN -3   FEDDE LE GRAND
  30   NEW ENTRY   DYRO -  HIGHEST NEW ENTRY   
  31   DOWN -2   LAIDBACK LUKE     
  32   DOWN -16   PAUL VAN DYK      
  33   DOWN -12   ATB
  34   UP 8   ANGERFIST   
  35   DOWN -11   DADA LIFE     
  36   DOWN -6   KASKADE       
  37   UP 42   FRONTLINER        
  38   UP 19   STEVE ANGELLO
  39   DOWN -21   SANDER VAN DOORN       
  40   NEW ENTRY   MARTIN GARRIX  
  41   DOWN -1   PORTER ROBINSON       
  42   DOWN -20   FERRY CORSTEN         
  43   DOWN -8   CHUCKIE
  44   NEW ENTRY   KREWELLA        
  45   DOWN -8   COONE      
  46   DOWN -1   CARL COX - HIGHEST TECHNO DJ   
  47   UP 6   BOBINA   
  48   UP 10   OMNIA      
  49   DOWN -17   ORJAN NILSEN       
  50   DOWN -14   ZATOX       
  51   DOWN -37   GARETH EMERY     
  52   UP 14   BINGO PLAYERS
  53   DOWN -10   INFECTED MUSHROOM     
  54   DOWN -2   ERIC PRYDZ      
  55   UP 7   TOMMY TRASH      
  56   DOWN -15   WILDSTYLEZ      
  57   DOWN -29   ARTY
  58   UP 15   R3HAB        
  59   DOWN -5   MADEON     
  60   NEW ENTRY   VICETONE  
  61   DOWN -12   BRENNAN HEART     
  62   DOWN -6   DJ FEEL       
  63   NEW ENTRY   GUNZ FOR HIRE
  64   NEW ENTRY   DIPLO
  65   DOWN -15   TENISHIA
  66   DOWN -39   NOISECONTROLLERS        
  67   UP 19   MIKE CANDYS        
  68   NEW ENTRY   ANTOINE       
  69   UP 5   QUENTIN MOSIMANN       
  70   UP 30   PROJECT 46        
  71   NEW ENTRY   BLASTERJAXX
  72   DOWN 8   D BLOCK AND S TE FAN        
  73   NEW ENTRY   DILLON FRANCIS      
  74   NEW ENTRY   DANNIC
  75   NEW ENTRY   ADARO       
  76   UP 2   RICHIE HAWTIN         
  77   DOWN -29   MARTIN SOLVEIG        
  78   UP 12   FELGUK        
  79   RE-ENTRY   MYON AND SHANE 54        
  80   DOWN -41   COSMIC GATE       
  81   NONE   HEATBEAT        
  82   RE-ENTRY   JOHN OCALLAGHAN      
  83   DOWN -8   WASTED PENGUINZ         
  84   NEW ENTRY   TIDDEY        
  85   RE-ENTRY   SKAZI   
  86   UP 13   DA TWEEKAZ        
  87   NEW ENTRY   TENASHAR       
  88   UP 6   BOB SINCLAR         
  89   DOWN -19   BENNY BENASSI        
  90   NEW ENTRY   STAFFORD BROTHERS         
  91   NEW ENTRY   BL3ND       
  92   DOWN -23   PAUL OAKENFOLD         
  93   DOWN 21   MAT ZO
  94   NEW ENTRY   DIEGO MIRANDA
  95   NEW ENTRY   DJS FROM MARS     
  96   RE-ENTRY   MATT DAREY         
  97   DOWN 38   UMEK        
  98   RE-ENTRY   SOLAR STONE
  99   NEW ENTRY   UMMET OZCAN
  100 DOWN 12   RAN D