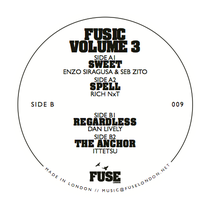 Fuse London continues its 'Fusic' series with 'Vol.3', featuring four cuts from residents and associates, Enzo Siragusa & Seb Zito, Rich NxT, Dan Lively and Ittetsu. The Fuse London imprint, born out of the identically named events, is now nine releases deep, the label showcases the infectious, stripped and intriguing sound the brand represents and has picked up support along the way from a wide array of artists.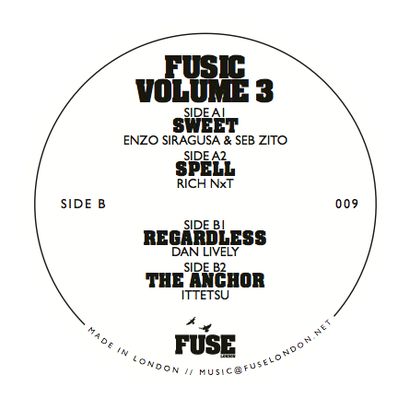 The package kicks off with founder Enzo Siragusa, and resident Seb Zito's 'Sweet', a straight laced, raw house track employing punchy drums, drawn-out sub lines and ethereal pad lines. The duo build on these foundations in the focal point, easing in a cosseting deep synth melody that subtly warbles in pitch building tension, resulting in a heady peak-time record. Rich NxT steps up next with 'Spell', embracing a similar aesthetic, but adding a more aggressive tone with penetrating saw waves and dubbed out vocal licks.

Entering the B-Side is Dan Lively's 'Regardless', who takes things a little deeper with bubbling organic percussion, a bulbous subby bassline and warm evolving chords, creating a tasteful, understated record. Ittetsu wraps things up with 'The Anchor', tipping the focus towards its shuffling rhythm while subtle nuances in the groove and hidden automation tucked into the depths of the background. It's out now.
© justaweemusicblog.com